It might sound like fantasy to say a computer can read someone's mind and then activate a motor. But that's exactly what young mechanical engineers at the College of Staten Island devised this summer—and at a fraction of the cost of similar devices available commercially.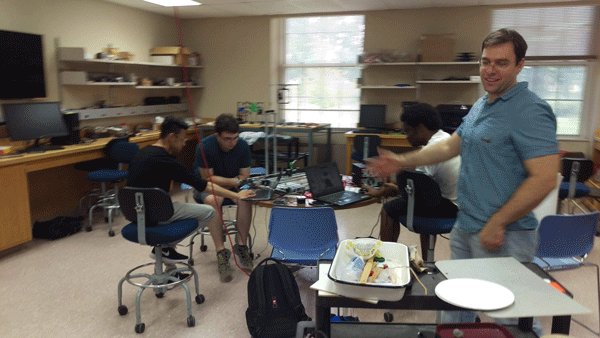 Mechanical Engineering Professor Aleksandar Haber guided the work of two Staten Island high school students who developed a low-cost noninvasive brain-computer interface.
Watch this video for a demonstration of the project.
"An electrode is placed on a person's head," Haber explained. "As the person blinks, an electrical signal is generated. The voltage signals are detected and analyzed by a computer algorithm."
The algorithm searches for voltage patterns that correspond to blinking, he added. Once the pattern is detected the algorithm generates control signals that are used to drive an electrical motor.
"This is a proof of principle that encourages us to develop more sophisticated algorithms that can detect more complex mind commands." Haber said.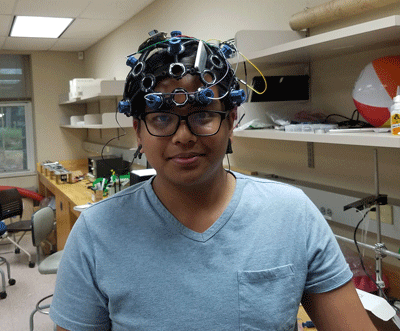 The key difference for the students' project is that the cost of their device is no more than $1,000. That's about 20 times less than the cost of currently available commercial models, Haber said.
"It required a lot of trial and error as well as brainstorming due to the fact that our research budget was really limited," he said. "It turns out that with $1,000 you can make something that is quite useful and that can serve as a testbed and demonstrator for advanced artificial intelligence algorithms."
The two Staten Island Technical High School students—Daniel Indictor and Dominick Villamor—worked as part of a summer research program at the College of Staten Island under Haber's direction.
"The coolest thing was when I could interpret the data for myself," Indictor said as he demonstrated the device on a recent afternoon. "The use of engineering to solve real-world problems is very cool."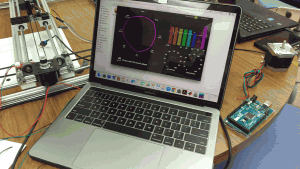 "It is amazing what they did, taking into account that they are only 16 years old," Haber said of Indictor's and Villamor's work. "Usually, graduate students are working on these types of projects. These projects can help the students to be admitted to top engineering schools or even to obtain scholarships."
People who have suffered spinal cord injuries or who are otherwise unable to operate a machine using their arms and hands could use the set-up the students developed to do so. But their work is just a first step, Haber said.
"We've developed a low-cost system for integrating brain signals to control mechanical devices—motors—but this is just to prove the principle," he said. "The ultimate goal of the project is to control a drone."
The approach would similarly involve electrodes placed on someone's head to read the signals a person's brain generates as he/she thinks, say, "up," "down," "left," and "right." Each of these ideas generates a pattern of electrical signals, Haber said, adding that as many as 16 electrodes could be reading the signals. The students' project involved just one electrode, though.
"I was a little skeptical in the beginning that this was possible," Haber said. "But we play with algorithms and hardware and the results can be quite amazing."