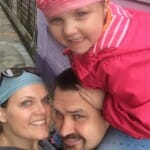 College of Staten Island (CSI) alumna Jennifer Sammartino-Mallen '99 has been working to improve Staten Island ever since she graduated.
Appointed as the first Director of Tourism and Cultural Affairs for Staten Island in the Office of the Borough President, Sammartino-Mallen recently commented on her devotion to her hometown as well as her own journey as a professional.
"I love Staten Island. I honestly do. It's my birthplace and my home, and I know it has so much to offer. My entire career, I have tried to do things that benefit my community and make it a better place. I have been so fortunate to have worked with professionals at stellar institutions on the Island and to be able to give back in small ways. I believe the journey I am on will allow me to continue to do that. I look forward to perhaps one day running my own organization and have even thought about getting an MBA," said Sammartino-Mallen, who resides in New Brighton with her husband, daughter, and their cat, Steve Buscemi.
After receiving a Bachelor of Arts in English Literature, the native Staten Islander went on to be a journalist at the Staten Island Advance before she began serving for Borough President James Oddo as Director of Communications and External Affairs for more than three years.
"This is an extremely exciting time for our borough, and I am honored to be able to contribute to a positive image of Staten Island to potential visitors in our city, state, country, and the world," commented Sammartino-Mallen, who, as an undergraduate, received scholarships from several organizations, including the Atlantic & Pacific Tea Company and The Lions Club.
Sammartino-Mallen's impressive résumé also includes posts as the Director of Communications and Development at Richmond University Medical Center and the Public Information Officer at the Department of Veterans Affairs, which serves Staten Island Veterans. She has also volunteered for the March of Dimes, the Staten Island Heart Society, and the Carl V. Bini Foundation, and is an active parent at Children's Harbor Montessori School, where she served on the Parent Association's executive board.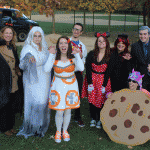 The successful professional, mother, wife, and conscientious citizen reminds other grads to "network. Take the time to go to events and meet people. Never turn down an invitation. You never know who you might meet."
She further advises CSI students to, "Try everything. Explore. You never know what might grab you and lead you down the right path. I had two or three majors by the time I settled into English Literature. I majored in something I loved because I knew I could stick with it. I wasn't concerned about how it would relate to my job search after school. I just wanted to be passionate about something and talk about books and plays, and CSI allowed me to do that."
The proud alumna remembers some notable professors she enjoyed at CSI, including the late Jim Tolan and Michael Shugrue, and Catherine Lavender.
"I recall a grad-level class where Jim Tolan had us take poetry we had written and physically cut it apart, line by line. I was devastated. I'm no poet and I had worked really hard on the assignment. Once we had the work in pieces, he asked us to reassemble it in a different way. What I had before me was so much more profound and interesting when I stopped thinking about where the thoughts 'belonged.' I think the same can be said for so many areas of our lives. It was an eye-opening lesson," she stated.
Finally, Sammartino-Mallen humbly notes, "Life is a balancing act, and I fail all the time. As a mother to a young child, it is next to impossible to give 110% all day, every day to everyone and everything in your life that deserves attention. Do what you can, don't stress the stuff that you can't change, and be grateful. And dye your hair."