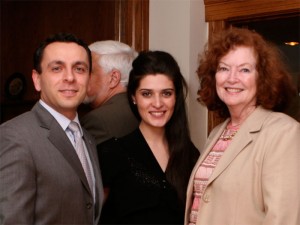 The National League for Nursing Accrediting Commission, Inc. (NLNAC) Board of Commissioners has approved the continuing accreditation of the College of Staten Island's Bachelor of Science (BS) degree program in Nursing for the maximum eight-year reaccreditation.
The NLNAC reviews programs throughout the country based on a set of national standards specific to nursing programs at a variety of higher education levels. The BS program faculty were required to write a self-study of the congruency of CSI's program to those described in the national standards. This translates to basically how the program "measures up" and how effectively the department is implementing its curriculum and coursework.
Mary O'Donnell, Chair of the Nursing Department commented, "The criteria include qualifications of faculty and staff, quality of curriculum, institutional support for the curriculum and program, student outcomes, and student policies and services. These criteria are key factors that determine whether or not your program is reaccredited." Dr. O'Donnell said, "It's an excellent process of ongoing self-study and assists faculty to ensure that the program is as strong as possible.
CSI's BS program in Nursing is a Registered Nurse (RN) to BS program, which means that those with RN licensure can build on their basic education and obtain the BS degree. The Nursing BS program has approximately 185 students enrolled. It is a growing program and helps prepare students for today's health care environment
The Department also has an Associate in Applied Science (AAS) program and graduate programs in Nursing that were most recently reaccredited by the NLNAC in 2007. There are approximately 375 students enrolled in the AAS program, which is also a respected program in the community. The pass rate on the New York State licensure examination for CSI AAS graduates is currently at 90%, which is above the State average. "We encourage all our Associate degree students to continue on to earn their Bachelor's degrees, and most of our students do so while they begin work in the hospitals of Staten Island and Brooklyn," added O'Donnell.
The graduate programs include Master's of Science (MS) in Adult Health and Gerontological Nursing for advanced practice nurses, as well as a Research Doctorate (Doctorate in Nursing Science [DNS]) offered at the CUNY Graduate Center. The DNS program is a consortium in which CSI participates with Hunter and Lehman Colleges. The Nursing Department also has several advanced certificate programs.
The Nursing program recently received a $100,000 grant from the Brooklyn Home For Aged Men to establish a simulation lab designed to address the needs of older adults in the homecare and assisted living environments. Some of its features include the use of the newest technologies in care, such as telehealth monitoring to track vital statistics remotely. The new lab will expand upon the previously established high- and low-fidelity simulation labs within the Nursing Department.
"This reaccreditation reflects the hard work of our faculty, and their diligence," commented O'Donnell, adding "We are well blessed with high-performing, dedicated students and highly qualified and motivated faculty. I look forward to continuing our mission of educating the next generation of health care professionals based upon the highest possible standards."
Sharon J. Tanner, EdD, RN, and Chief Executive Officer at the NLNAC, wrote, in her congratulatory letter, "You and your faculty have demonstrated your commitment to the highest standards of nursing education. Your successful accreditation shows that your school does indeed meet these high standards. Congratulations on this outstanding achievement. We look forward to continued successes for your nursing program."