Mark Barahman, a junior with the Macaulay Honors College at the College of Staten Island (CSI) and a Goldsmith Scholar, was named a Barry M. Goldwater Scholarship winner, a first in the history of CSI.
The Goldwater Scholarship was established by the United States Congress in 1986 and is the premiere federally funded undergraduate award of its type.  It is designed to foster and encourage outstanding students to pursue careers and PhDs in the sciences, engineering, mathematics, computer science, and related fields. Only 300 students nationwide earn this prestigious distinction.
Dan Feldman, also a junior in Macaulay Honors College at CSI, is majoring in Physics with a concentration in Astronomy. He has received an Honorable Mention for the Goldwater Scholarship. Only 150 students receive an honorable mention award.
[flowplayer src='https://csitoday.com/wp-content/uploads/2011/04/Beyond_Teflon.mov' width=320 height=180 splash='https://csitoday.com/wp-content/uploads/video-player/assets/images/beyond_teflon.png']
A Biochemistry major at CSI, Mark has worked in two prestigious laboratories—the neuroscience lab of Professor Abdeslem El Idrissi and the chemistry lab of Professor Alan Lyons.  He currently works with Dr. Lyons on research related to super-hydrophobic surfaces.
Mark's most notable accomplishment during the summer of 2009 was the construction and programming of a robotic printer that prints in three dimensions (3D) on a microscopic scale.
"Commercial 3D printers are available, but they are often extremely expensive, fragile, and very limited with respect to the building material," notes Barahman. "We needed to build something that would allow us broad applicability and flexibility, while also being inexpensive and scalable to industrial-size processes."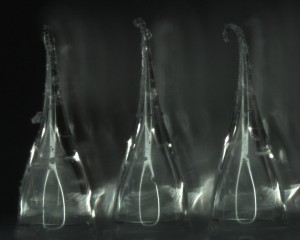 "He programmed the robot early that summer and quickly developed two printing methods to produce 'super-hydrophobic surfaces'," commented Dr. Lyons.  "One method used highly viscous materials that deposited drops similar to a chocolate kiss, and the other method used a lower viscosity material that printed thinner, pancake-shaped layers."
Both of these methods created super-hydrophobic surfaces, three-dimensional surfaces that hold droplets of water on multiple microscopic "spikes." This surface prevents the water droplet from strongly adhering to the surface, allowing it to roll rather effortlessly, while maintaining the integrity of its spherical shape.
When these surfaces are used, the fluids are able to effortlessly move along the surface with minimal force. These surfaces can be applied to facilitate transportation of fluids in the medical profession.
The next challenge was controlling direction of the water droplet flow on these super-hydrophobic surfaces.
Looking to nature, Mark became inspired by the water-shedding properties of the butterfly's wing.  When a butterfly lowers its wings, the water rolls off onto the ground. When the wing is raised, the water is pinned and does not roll down the wing onto the body of the butterfly.  This adaptation keeps the butterfly's body dryer and lighter.
Mark experimented with multiple concepts, and learned that by programming the robotic printer to deposit the 3D "kisses" and "pancakes" at an angle, the water droplet would flow easily in one direction, and with great difficulty in the other direction.
On the microscale, Mark had developed a synthetic material that emulated the water shedding effects of the butterfly wing.  This new biomemetic surface containing angled "spikes" acted as a "one-way" sign or "liquid ratchet" controlling the directional flow of water using only the interactive properties of the fluid with the solid.
Whereas super-hydrophobic devices allow for the easy transportation of fluids within many applications in the medical field, these new directional-devices may transport cooling fluid in micro-electronic devices without back flow.  This could minimize the size and heat-producing pressure often needed for the transportation of fluid, and allow for a 360-degree application environment without the chance of backflow.
"I am exceedingly proud of Mark's important research at CSI," said Dr. Lyons. "He is a serious scientist who works very hard and thinks deeply about problems.  I expect that when he enters graduate school he will rank amongst the top echelon of all graduate students."
"I extend my heartfelt congratulations to Mark Barahman for his well-deserved distinction," said CSI President Dr. Tomás D. Morales. "He has forged a place for himself in the history of the College by being the first Goldwater Scholar at CSI, and has earned himself great honor and national recognition.  I offer my thanks to his faculty mentors for supporting Mr. Barahman's academic goals, and challenging him to succeed. Together we are bolstering CSI's national and world-class reputation."
"Winning the Barry M. Goldwater Scholarship would not have been more than a dream without the guidance and teaching of my mentors and professors at CSI," Barahman states.  "The scientific training and opportunities at CUNY are first class. I am truly grateful to have the opportunity to work with experienced and distinguished scientists like Dr. Alan Lyons, and to be taught and guided by Dr. Fred Naider, Dr. Charles Kramer, and Dr. Abdeslem El Idrissi. I am excited about winning this award as it reveals the terrific opportunities CSI offers and the world-class science taking place at the labs."
Mark's professional aspirations include obtaining an MD/PhD in the field of Biomedical Engineering.
Mark grew up in Israel, working as a teenager as a first responder for MDA (Magen David Adom, or Red Star of David), an emergency medical organization, which is a member of the International Red Cross and Red Crescent Societies.  He immigrated to Brooklyn in August of 2006. During the summer of 2010, Mark participated in NYU/Bellevue Hospital's prestigious Project HealthCare summer program, in which he was able to work in the emergency room and operating room, where he interacted closely with patients and the hospital staff, as well as assisted with clinical research projects and work on the annual Bellevue health fair.
Mark was the only undergraduate invited to give an oral presentation at the Young Chemists Committee ACS Symposium at The Cooper Union in March 2011.  The presentation was entitled "Printed Super-hydrophobic Surfaces Exhibiting Slip-Angle Anisotropy."
His research has also been presented by Dr. Lyons in a variety of prestigious forums, including the 2010 SPIE Optics and Photonics Conference in San Diego.
Learn more about the valuable services of the Career and Scholarship Center at CSI.