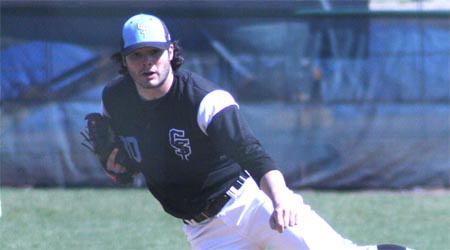 Former College of Staten Island southpaw hurler Pat Gale, an American Baseball Coaches Association/Rawlings NCAA All-American, has signed a professional baseball contract with the Traverse City Beach Bums of the Independent Frontier League in Michigan.  Gale is one-year removed from his record-setting career at CSI, and has been spending this recent spring campaign as the team's pitching coach.  He is expected to join the Beach Bums in early-May for Spring Training, before the season opener a few weeks later.
Best known for his dominating presence on the mound, Gale set career school records for innings pitched (260.0) and strikeouts with 315, topping the former mark set by Kevin Crombie (1989-92).  He is expected to complement the Beach Bums as a relief pitcher in what will ultimately be an 11-man rotation.
"It's exciting," contended Gale.  "I'm sure I will be a little nervous at the start, but I appreciate this organization giving me a chance to show what I can do.  I'm pumped up about it."
Of course, Gale is anxious to use what he learned at CSI to propel him in the Frontier League.  In his four years with the program Gale worked under long-time CSI skipper Bill Cali and current Head Coach Michael Mauro, along with pitching coach and former Major League Baseball hurler Greg Belson.
"I had a blast playing baseball at CSI and learning from some of the best and knowledgeable people in the sport," Gale said.  "More than anything, they gave me to confidence and the positive motivation I needed to get better and to this point.  I couldn't be more thankful."
Gale's positive influence has been seen even after his playing days, where he also finished his career as the school record holder in at-bats (555) and doubles (50), finishing with a lifetime batting average of .355 with a pitching record of 21-13 with a 3.57 ERA.  This past fall and into the spring, Gale has taken over Belson's role as CSI's new pitching coach, helping to develop a staff that brought in seven new faces.  He will continue his duty until he reports to Traverse City.
"It's been a great experience and a chance for me to stay focused and centered on pitching," Gale said.  "As a coach you get a chance to assess and understand what others are doing right and wrong and the opportunity to incorporate that into my game is important."
A long way from his home in Staten Island, Gale will be placed with a host family in Traverse City.  The team plays a rigorous summer schedule within the 14-team Frontier League.  The team will travel as far as Missouri and as far east as Pennsylvania in 2012.
Gale was signed by Traverse City after attending a try-out for the squad in Indiana this week.  While he impressed enough to sign a contract, Gale is looking forward to display an even better product in front of live competition.
"It's hard for me to be truly comfortable when I'm throwing to a catcher and my competition is a radar gun," he noted.  "I feel I'm at my best when someone is in the box.  I can keep batters off balance and guessing when they are at the plate.  So, I'm looking forward to having that experience and being confident with all the tools I can use on the mound."
The Beach Bums finished 51-45 a year ago, landing in third place in the League's East Division.  Although they failed to qualify for the playoffs, the Bums appeared in the 2010 championship series, falling to the River City Rascals.  A total of 22 players from the Frontier League have been signed by Major League Baseball teams since 1993.
Keep updated with www.csidolphins.com for Gale's progress.