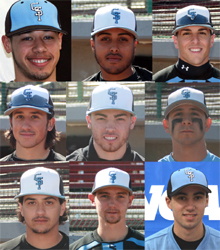 The CUNYAC has announced the men's baseball All-Stars for the Spring 2012 season and the College of Staten Island found themselves filling the list. Freshman Will Difede was named Co-Rookie of the Year while Sal Todaro, Luis Ortiz and Richard Anderson were named to the First Team All Stars. Bryan Moreno, Henry Roman, Dan Lynch, James Lewis and Mike Van Pelt were named to the Second Team All Stars.
Difede started in 30 games for the Dolphins boasting a .368 batting average. He led the team in RBI's with 29 and totaled 39 hits. His speed was apparent as he also led the team in stolen bases with 25. Playing the outfield, the freshman had a .975 fielding percentage.
In his senior year, Todaro totaled 35 hits with 23 RBI's. The first baseman had a .981 fielding percentage with 122 putouts. He holds three of the top 7 CSI single season fielding percentage records.
Only a freshman, Ortiz has made an impact on the Dolphins. Starting in 38 games, the most of any CSI player this season, he finished with 35 hits and 34 runs scored. His speed has helped him to 17 stolen bases.
In his second year with CSI, Anderson has been a force on the mound. His 3.39 ERA included four wins. He struck out 50 batters in 61 innings pitched.
Moreno led the team in hits (44), RBI's (29) and total bases (56). He was the only player to play in all 39 games this season.
Out at the start of the season due to injury, Roman came back strong to finish his senior year. He leads the team with a .374 batting average totaling 34 hits, and 14 RBI.
Lynch's 22 stolen bases this season tied him in fifth for a CSI single season record. He gathered 26 hits, 21 runs scored and 11 RBI's for the Dolphins.
With 25 hits and 25 total bases, sophomore Lewis has been a mainstay in the Dolphins lineup. Another player with speed, Lewis totaled 19 stolen bases this season, tied for 8th best in a single season.
With the most wins from the mound with five, Van Pelt had a strong sophomore season for CSI. He totaled 31 strikeouts in 48.2 innings pitched and pitched two complete games.
The CUNAYC Sportsmanship award was given to AJ Mulvey of CCNY and Justin Torres of Baruch. Player of the Year was awarded to Tomas Daly of Baruch. Jesus Izarra of Baruch was honored with Pitcher of the Year while Paul Perez of Baruch was Co-Rookie of the Year.
Despite falling to Baruch College in the CUNYAC Championship game, the Dolphins ended their season with a 21-18 record.