In the third year of College of Staten Island's English Language Institute (ELI) ambassador program, 26 students from Meiji University in Tokyo, Japan spent four weeks living with host families while studying U.S. culture in New York City.
Recently, the students had a chance to celebrate in the Green Dolphin Lounge with their host families during an evening of food and stories of their time in New York.
Although the students spent much of their time studying English and learning about the various aspects of U.S. culture, there was an emphasis on one aspect of our culture that we sometimes take for granted: volunteerism.
The idea of doing something without desire of personal gain is one that is very American and the students from Meiji learned about it by performing community service at Clove Lakes Rehabilitation Center in Staten Island. There, the students participated in arts and craft activities with the elderly residents and even helped to tend the facility's greenhouse.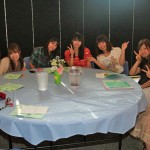 "We wanted to introduce the students to the volunteer component of our culture," said Eileen Bardel, the Volunteer Coordinator for the Rehabilitation Center. Bardel, whose son is teaching English in China, is a veteran of partnerships between visiting CSI students and her Center's residents. "This program is wonderful for the residents and also helps the students participate in something they may have never experienced before."
Of course, that is not to say that the students did not take out some time to enjoy themselves during their stay. Most of the students assembled in the lounge toted large shopping bags and excitedly discussed their purchases with each other and their host families. "Everything is so much cheaper here," said Lijie Kong, otherwise known as Krystal to her host family and ELI staff, while proudly displaying her new Mac laptop to a small crowd.
The students also spent much of their time exploring the city, both with CSI staff and on their own. The programs consisted of expeditions to sites within all five boroughs in order to give the students, according to Winnie Brophy, Special Assistant for the Center for International Service at CSI, "a taste of all of New York City, not just what they may see on television."
When asked what his favorite experience during his visit was, Goki Sakata answered, quite succinctly, "Times Square."  The Tokyo native, who is studying Global English, said he was amazed "by the amount of people out at any one time," and studying all of the iconic sites in Atlantic City; Washington, DC; and Boston was "really the reason I wanted to visit," he said.
Kai Tateishi, another visiting student, echoed Goki's sentiment. "Times Square was so impressive. Everything was tall and the streets were so crowded," he said. Kai went on to explain a couple of interesting distinctions between our two cultures. "American shopkeepers are not so polite," he joked. "I learned that the hard way."  He was also surprised by the amount of card swiping shoppers did. "In Japan, we mostly pay with cash."
What should not be forgotten is that the students are not the only ones positively affected by the visit, most of the host families were also in attendance and they were happy to share some of their memories with each other and the ELI staff.
Sigrid Biscocho, along with her husband, Noel, is a veteran of these types of ambassador programs, with Goki being the fifth student they have hosted. "We like to expose our family to other cultures," she explained.  "It's a great learning experience for all of us."
As the introductions came to a close and everyone was gearing up for a hearty dinner before the students had to board a plane for Tokyo in the morning, Barbara Clark, the Deputy Director for the Center of International Service, finished her goodbyes by telling all those assembled, "The memory of your visit will be in our hearts forever." It was obvious that the feeling was mutual as the potluck was underway and the students and their hosts made one last effort to create an everlasting memory of their visit.