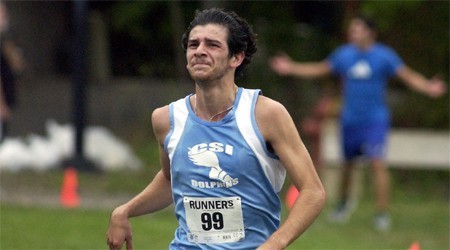 The College of Staten Island men's and women's cross-country squads got their final tune-up before the CUNYAC Championship Meet this coming weekend, participating in the St. Joseph's College Invitational at Sunken Meadow Park in Long Island on Saturday.  The CSI women fielded an incomplete team and did not score, but the men impressed, scoring a ninth place finish among the 21 participating teams, second among CUNYAC schools.
Leading the charge for CSI was sophomore Andrew Pate, who has led the field in every CSI race that he has participated in this season.  Pate scored a 30:24 finish in the 8k event, good for the 9th-best time in the 8k for a CSi runner this season.  Following close behind was Samuel Obesanya, who came in at 30:38.  Five more runners would place for CSI in the 157-person event. 
Richard Ruggiero came in at 33:58, good for 62nd overall, while Michael Wallace was next at 34:45, coming in 69th.  Shawn Cybulska was next to cross at 38:26, followed by Michael Gratkowski (41:33) and Marcel Apelbaum (43:40).
On the women's side, only two runners were on hand for CSI. In the 147-person event, Jacqueline Jamaleddine led the CSI charge in the 5k event, coming in at 24:55, good for 50th overall.  For Jamaleddine it was the 4th-best 5k time for CSI this season.  Kubra Shirazi was the other Dolphin to land a position, coming in with a time of 33:51.
Next up for CSI will be the CUNYAC Championship Meet on Sunday, October 28, at Van Cortlandt Park in the Bronx, NY.  Race time for the women is 9:30am and the men are set to race at 10:30am.