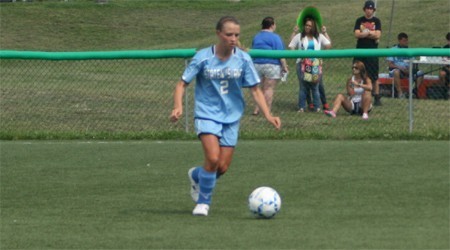 The College of Staten Island women's soccer squad fell behind early and never could gain ground, dropping their most lop-sided game at the hands of Drew University, 8-1, in a non-conference tilt at the CSI Soccer Complex this afternoon.  CSI fell to 8-5 overall with the loss while the Rangers improved to 6-6-2.
The Rangers scored four times in the opening stanza, none quicker than Courtney Carnevale's blast just 33 seconds into the contest off of a right-side cross by Emma Campbell.  Just passed the 10-minute mark, Katie O'Keefe tallied another on a hard low liner that got in passed CSI starting keeper Ashley Albanese.  CSI got off a trio of shots on goal in the opening frame, but as Drew starter Dera Agata turned them aside they were able to score twice more to go up 4-0 at the break.  Campbell scored one of her own at 22:32 while Mel Santos took in a Corrine Schoch pass that tickled the twine at 38:41.
Caroline Kuras welcomed in new goalie Jennifer Coughlan with a goal at 58:17 to make it 5-0, as the Rangers continued to stay in complete control.  The Dolphins got the goal back just 36 seconds later, when a Samantha Wysokowski pass bounce onto the waiting foot of Kathryn Dowling, who punched in the goal from the left to make it 5-1.
Drew closed the door after that, as both Sara Nash (19:41) and Valerie Bannan (10:09) pitched a two-save shutout the rest of the way.  Meanwhile, Campbell added her second marker at 60:45, followed by goals by Danielle Cowan (63:05) and Morgan Zwengler (70:01).
The Rangers outshot the Dolphins for the game 26-8 (14-10 on goal), who overwhelmingly controlled the tempo.
CSI will next take on Brooklyn College on Monday, October 22, at 4pm, at the CSI Soccer Complex, in what will also be their final conference game of the season.