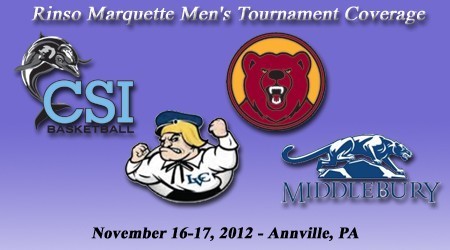 The College of Staten Island men's basketball team will tipping off its 2012-13 campaign tonight from Annville, Pennsylvania, and you can be a part of the action all weekend long.  Tonight at 8pm, CSI will take on host Lebanon Valley College in the opening leg of the Rinso Marquette Tournament.  If you can't make the trip to LVC, there are two ways to keep up with the action live from your desktop.
Live statistics are available here, or by going to sidearmstats.com/lvc/mbball/scoreboard.aspx.  LVC Television will also be carrying a live stream of the game available here.
Prior to the CSI vs. Lebanon Valley matchup, at 6pm, Middlebury University will be taking on Ursinus College.  Live stats for that game can be accessed here, while a live web radio broadcast can be found here.
The two winning teams tonight will face off tomorrow at 3pm in the Championship, while the two losing sides will meet at 1pm for the Consolation.  Check back to www.csidolphins.com for the latest updates and how to continue to follow on Saturday.