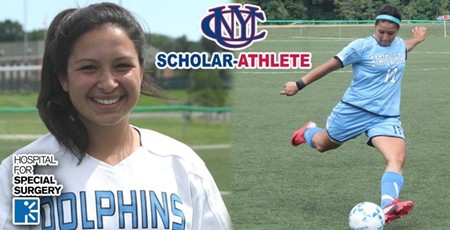 College of Staten Island's women's soccer sophomore midfielder Samantha Wysokowski has been named the CUNYAC/Hospital for Special Surgery Scholar Athlete of the Month for October 2012.
Wysokowski's 3.423 GPA earned her a spot on the CSI Athletic Director/SAAC Honor Roll while also being given an honorable mention as CUNYAC Scholar-Athlete of the Month for September 2012. With the hopes of becoming a physical therapist, she majors in Psychology at the College.  
"She's always been an awesome student, one who definitely knows how to juggle her class work and team work," said Head Coach John Guagliardo. "Every student athlete should learn from her on how to prioritize the two."
For the month of October, Wysokowski totaled 10 goals along with five assists. She ranks in the top 10 nationally for goals scored this season.
With her success on the field, Wysokowski was named the ECAC Metro Player of the Week in September 2012, CUNYAC Player of the Week twice in September 2012 and was named CUNYAC Rookie of the Week in her 2011 season. She also owns the CSI all-time single season record for goals scored with a whopping 26 netted in 2012.
In her free time, she trains young athletes ranging from ages 3-11 in soccer. The multi-talented athlete also helps coach the St. Joseph Hill High School Bowling Team. 
"It is an honor to receive the award because I not only represent student-athletes but I also represent my team," said Wysokowski. "All my hard work was motivated by their hard work and I'm proud to represent them. I think I'm successful because I try to manage my time with school and soccer so that I can give 100 percent to both of them."