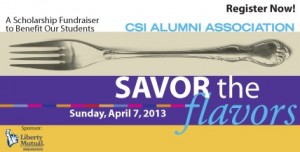 The College of College of Staten Island Alumni Association presents the Fourth Annual Savor the Flavors tasting event on Sunday, April 7 in the Center for the Arts Atrium.
Register online for $30 advance tickets on the Alumni Association Website.
Once again, dozens of Staten Island restaurants  come together to raise much-needed money for scholarships while showcasing the diverse cuisine that our borough has to offer. Over the past three years, 36 scholarships have been awarded through the CSI Alumni Legacy Scholarship from money raised from past Savor the Flavor events.
As Staten Island's only public institution of higher education, many of the College's 14,000 students present a great need for financial aid and the Alumni Association created this scholarship to help them.
Each participating restaurant will bring their signature dish and demonstrate how it is prepared.
Celebrity judges Rob Burmeister, Eddie Canlon, and John Sierp from Food Network's Chopped will be on hand to award winners for Best Dish and Best Dessert, while attendees can help decide the People's Choice Award winner.
Wine and beer tasting will also be available, as well as raffles and music.
The Event Chair will again be James McBratney, CSI Alumni Board Member and President, Staten Island Restaurant and Tavern Association.
Featured Restaurants:
Afternoone's, Alfonso's, Beer Garden, Blue, Bridge Tavern, Canlon's, Da Noi, Delish Dishes, Dosa Garden, Hungry Sombrero, Jimmy Maxx, Joe Mozz Gourmet Shop, Joe's of Avenue U., Lee Sims Chocolates, The Lake Club, Manor Restaurant, Nucci's, Oriental Plaze, Paesano's Pizzeria, Park Café, Pepperjack Grill, Port Richmond High School Culinary Arts Program, R. Ippolito Distributing (specialty beers), Randall Manor Tavern, San Rasa Sri Lankan Cuisine, Tapas, Vino Devino Wines, and many, many more.
The Center for the Arts is located at 2800 Victory Boulevard, Staten Island NY. For more information regarding tickets, call the Alumni Relations Office 718.982.2290 or email alumni@mail.csi.cuny.edu. Online registration for $30 advance tickts also available at the Alumni Association Website.  Tickets will be sold at the Door for $50.