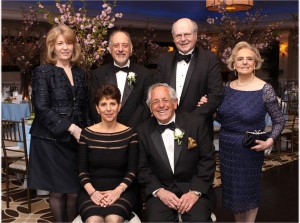 The College of Staten Island succeeded in raising much-needed funds for its greatest needs recently at the Fourth Annual Celestial Ball. The event, held at the Richmond County Country Club, was a resounding success, as a record number of tickets and journal ads had been sold and more sponsors than ever signed on to support the Ball.
View the CSI Today Photo Gallery>
The Ball was also well attended, as approximately 250 people—from community and business leaders to students, faculty, staff, and friends of the College to honorees and their family members—were in attendance. Although the guests thoroughly enjoyed the evening, the College was the greatest beneficiary, as the proceeds will be used to address all aspects of the College—from student and faculty support through infrastructure and everyday needs. This is especially important in the current trying economic climate, where the percentage of state funds in the institution's budget has been severely reduced in recent years.
Three prominent individuals, Robert Cutrona, Sr., President, Project-One Services; Norma D'Arrigo, Community Leader; and Dr. Alfred Levine, Professor, Engineering Science and Physics, and Director, Center for Environmental Science, College of Staten Island, also received the President's Medal at the event for their significant contributions to the College and Staten Island communities. The Medals were presented to the honorees by CSI Interim President Dr. William J. Fritz, with the assistance of Interim Provost and Senior Vice President for Academic Affairs Dr. Fred Naider.
Attendees were also treated to remarks from Dr. Christine Cea '88, New York State Regent representing Staten Island, President of the CSI Foundation, and Scientist at the Institute for Basic Research, who also presented a brief video spotlighting the progress on CSI's first-ever residence halls. Dr. Fritz also provided a progress report on the College, emphasizing that this important work can continue thanks to the generous support of private donors.
In addition, Student Government President Michael Allamby represented the student body, discussing how the College of Staten Island, and in particular, an internship opportunity from a particular CSI alumnus, made a difference in his life.
This year's Celestial Ball was chaired by Marilyn Caselli, Senior Vice President for Customer Operations, Consolidated Edison, Inc., and a member of the CSI Foundation Board of Directors. The Honorary Chairs are the Hon. Rita DiMartino, Trustee of The City University of New York, and the Hon. Kathleen Pesile '73, Trustee of The City University of New York and Principal Owner, Pesile Financial Group.