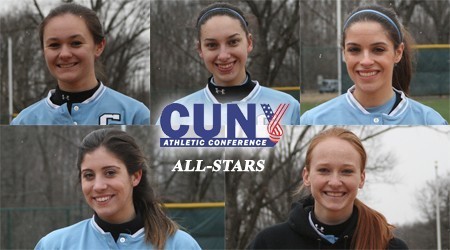 The College of Staten Island's stellar softball season continues to receive praise as Victoria Procopio, Stefani Solari, Britanny Smith, Christina Tufano and Maxine Jasko were named CUNYAC All-Stars.
Receiving CUNYAC All-Star First-Team nods include Procopio, Solari and Smith, while Tufano and Jasko were named to the second-team.
It is no surprise to see Procopio on first-team after earning CUNYAC Player of the Week honors twice during the 2013 campaign. The sophomore helped lead the Dolphins to a conference title as the team's starting pitcher, where she pitched 23 complete games, including four shutouts, to register an overall record of 19-10 and an ERA of 3.88 on the season. She was also a powerhouse at the plate, registering 54 hits, 36 RBI's and completing the season with a batting average of .446.  Procopio went a perfect 3-0 in the CUNYAC Tournament, aiding CSI to their 15th conference title.
The elder of a young team, Solari started in all 40 games for CSI and earned a CUNYAC Player of the Week honor as well. The junior led the team offensively, hitting a team-high three homeruns and 39 RBI's to register a batting average of .465 and a slugging percentage of .709.
During her sophomore campaign, Smith recorded 50 runs, 45 hits and registered 11 RBI's to finish the season with a batting average of .363. However it was on the bases where she was a real threat as she led the team with 33 stolen bases and was caught just four times all season.  Despite only completing her second season, she is already CSI's career leader in stolen bags with 68.  She was also a defensive force in the outfield with a fielding percentage of .968.
Tufano wasted no time making her presence known in the league, earning a CUNYAC Rookie and the Week accolade early in the 2013 season. She was one of the few to start all 40 games for CSI as she registered 53 hits, including 11 doubles and 8 triples, while recording 34 runs and 31 RBI's, to finish the year with a batting average of .449.   She was among the nation's best in triples per game as well, registering in the NCAA Division III Top 10 in that category.
While she may have been a freshman, Jasko certainly didn't put up rookie numbers. The Staten Island native scored 35 runs, tallied 48 hits, which included six doubles, two triples and a homerun to give her 26 RBI's and a batting average of .387 on the year.
The CSI softball season came to a close with an 8-3 loss to Kean University in Regional play of the NCAA Division III National Championship Tournament. The Dolphins finished the season with 24 wins, tied for fourth highest in single season history.  CSI's 410 hits this season are the highest all-time at the college, as are the 30 triples.