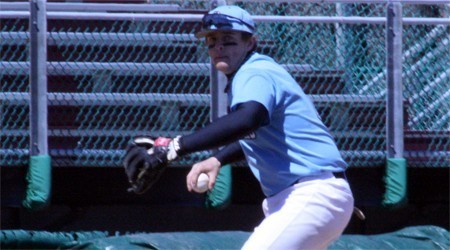 Staten Island, N.Y. – The awards keep pouring in for junior Chris Ramanauskas who helped the College of Staten Island baseball team earn its 16th CUNYAC title, as he was just named to the D3.com 2013 All-New York Region Second-Team, Monday.
The third-baseman was one of just two players to start all 42 games for the Dolphins. With a team-high 58 hits and 42 runs scored, Ramanauskas has become an integral part of the CSI lineup. In addition to leading the team with a batting average of .406 and a slugging percentage of .552, he registered a team-high 14 doubles, two triples and knocked in 36 homeruns.  
This season, the Staten Island native has earned several post-season accolades including being named a CUNYAC First-Team All-Star and was most recently named the team's Co-MVP at CSI's 2013 Athletics Awards Banquet. Earlier in the year, he was named the CUNYAC Player of the Week for the week of March 11-17 after he hit .667 for the week with three RBI's, two runs, one double, two walks and three stolen bases.
The Dolphins ended the 2013 season with a win 1-0 win over Baruch at the CUNYAC Championship, to finish the year with an overall record of 30-12. This marked the third time in the last four years that CSI baseball has won the conference title.