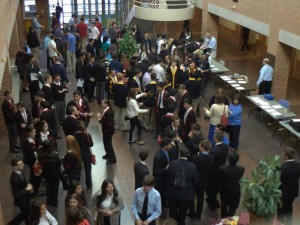 Staten Island High School Students learned about career options at the fourth annual "World of Accounting" event in the Williamson Theater at the College of Staten Island, sponsored by The New York State Society of CPAs (NYSSCPA).
The purpose of the event was to inform high school students about the education requirements for accounting majors, and to provide them with information about the various employment options for accountants.
The program featured guest speakers from the Federal Bureau of Investigation, representatives from accounting firm Ernst and Young, high school students who participated in the Career Opportunities for Accountants (COAP) program held over the summer at the St. John's University Staten Island Campus, and CPAs from the Staten Island Chapter of the NYSSCPA.
The guest speakers from the FBI discussed their respective positions within the bureau and the exciting options available to accountants at the bureau. Kevin O'Connor from Ernst and Young discussed his career and his appearance on The Amazing Race." Representatives from the NYSSCPA  briefly discussed their career paths and answered questions from students.
The event  was coordinated by Cynthia Scarinci, professor of accounting at the College of Staten Island School of Business and New York State Board Member, and Dennis Annarumma, Staten Island Chapter President, with assistance from the event committee, Rosemarie Giovinazzo-Barnickel, and recent CSI graduate Latiece Munnerlyn.
Approximately 275 high school juniors juniors seniors attended the event, along with a number of Staten Island high school faculty members, from schools including Tottenville High School, St. Joseph by the Sea High School, Susan Wagner High School, Monsignor Farrell High School, St. Peter's High School, Notre Dame Academy High School, New Dorp High School, and Moore Catholic High School.
Mr. Annarumma welcomed everyone to the event and spoke about the various opportunities open to CPAs. Professor Scarinci discussed the accounting curriculum and requirements for the CPA exam and licensure.
This was the third year of participation in the event for most of the high schools in attendance. They once again expressed how important this event is in providing insight into this field of study for their soon-to-be-graduating students.