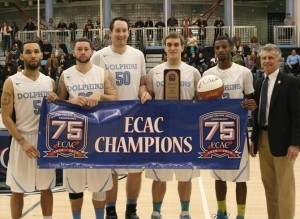 In a season that many would say was the finest ever at the College of Staten Island, the men's basketball program ended it in style, scoring a come-from-behind, 74-71, win over Kean University at the Sports & Recreation Center, clinching the 2014 ECAC Metro NY/NJ Postseason Basketball Championship.  For the Dolphins it caps a tremendous 28-3 season, and marks the College's first ECAC title since 1986 and it's second of all-time.  The most memorable night of the season also marked a bit of history along the way.  Senior guard Bloochy Magloire eclipsed the school's all-time career scoring record, and Head Coach Tony Petosa scored his 400th career win.
"Everyone wants to win their last game and it feels good," said Petosa after the game.  "I think we proved something to a lot of people this year, and I think we proved a lot to ourselves.  We're good.  We are a very good basketball team, and it's a nice feeling to win."
The win was hardly easy.  Down by as many as 11 points in the second half the Dolphins worked in a feverish comeback to take a late lead, then held on after a frenzied last-minute rally from the visitors, making for what was a great Final at CSI.
Neither team led by more than eight points in the initial stanza, and the teams traded the lead a total of five times.  CSI got on the board first with a Jonathan Chadwick-Myers three but Xavier Fuller and Tommy Soulias countered for Kean to give the Cougars the lead, and that set a pretty good stage for the remaining 38 minutes.
CSI was first to act quickly, going on an 8-0 run aided by five-straight Kevin King markers to give CSI an 11-4 edge with just 3:36 gone by in the game.  The Cougars roared back, working up a 14-5 run over the next five minutes take an 18-16 lead.  Fuller powered Kean for a couple of transition baskets, and Ali Mix capped the run with a three to enter the score sheet.  After tying the game a pair of times, CSI mustered back a thin, 23-22, edge on a Magloire jumper, but from there, beginning at the 9:26 mark of the frame, the Cougars worked in a 9-1 run, ended with two Mix jumpers to give Kean their biggest edge, 32-25, with 4:31 to go in the stanza.
After CSI worked KU's lead down to three, the Cougars went ahead by eight points, 37-29, with 2:22 to go on a Mike Summerer lay-in, before CSI closed to within 39-33 at intermission.
Both teams started the second half relatively hot, but the Cougars managed to keep the Dolphins at bay, and a pair of Soulias baskets, the second of which was converted into a three-point play gave Kean the game's first double–digit lead, 54-44, with 13:16 to play.  After a Dylan Bulger jumper cut the Kean lead, Fuller followed with a long-range bomb that extended Kean to 11, 57-46.  Magloire then hit a crucial three-pointer, his only one of the game, to counter, nut a J.J. Hladik three-ball the other way put Kean back up again by 11, 60-49, with 11:06, ending the back-and-forth assault.
CSI did not ask for a timeout, but was able to resituate itself and started amping up the defensive pressure.  That's when CSI made its move/.  The Dolphins would score on its next five possessions, holding Kean scoreless to close the gap to just 62-61 with 7:20 left.  Will Fonseca delivered a crushing blow, blocking a Fuller shot and then going the other way for the lay-up for a big point-swing.  Mix broke up the run for KU, but CSI was still on fire and another Fonseca jumper put CSI down again by one.
With the clock inside of five minutes to play, and after a series of misses, Chadwick-Myers stepped up next for the Dolphins.  The senior unleashed a three that crashed hard off of the rim bounced straight up in the air and then landed in the hoop for the fortunate three, giving CSI a crucial, 66-64, lead with 4:26 left, and CSI never trailed again.
With full momentum, Fonseca secured a pair of free throws before the Dolphins forced a Fuller miss and Fonseca scored again to give CSI its biggest lead since the early stages of the first half, 70-64, with 2:57 to go.  The teams traded baskets and CSI entered the final two minutes up by the same six points.  A wild finish ensued, beginning with a Fuller three at 1:42 that cut the lead to three.  The teams traded turnovers from there, until a Soulias lay-up with 11 ticks left cut CSI's lead to a digit, 72-71.  Kean promptly fouled, but Magloire calmly sank both ends of his one-and-one free-throw attempts to give CSI back the three point edge.  Down to one final attempt, a Michael Burton three missed its mark with two seconds left, and CSI fell on the loose ball as time expired.
The Dolphins rejoiced in the victory, but Petosa noted that the team was a bit subdued in its post-game celebration, still feeling the stings of not being selected to the NCAA Division III Tournament which also started this weekend.
"It's a bit of an empty feeling inside," said Petosa.  "Everyone is very happy but we are all a little hungry for more.  The NCAA did the wrong thing by us and it's unfortunate because we deserved to be there.  I think our kids were very emotional after the win for a variety of reasons, and that was certainly one of them."
Still, history hasn't been kind to the Dolphins in the ECAC Tournament.  Tonight marks only the second Championship for the Dolphins in 17 trips to the tournament, and is the first or the Dolphins in Petosa's 24 years of coaching.  It made for a special 400th for the coach, and he noted the exceptional feat by Magloire as also being a nice backdrop to the season.
"Bloochy has always been one of the best offensive players we have ever had here, and he certainly deserves the record on talent alone," Petosa said.  "As far as winning 400 games, I try not to look backwards a lot but it certainly does mean something to me, and I'm sure when my career comes to an end it will certainly mean a lot more.  More than anything it has been a rewarding year.  Winning the ECAC's is hard to do but it came together for us and I'm proud of it."
Magloire was named the Tournament's Most Valuable Player, scoring 15 points in the Dolphins' balanced attack.  Chadwick-Myers finished with a team-high 16 points, with Cox adding 13 and a team-high seven rebounds.  Kevin King and Fonseca also finished in double-digits, with 11 and 10 points, respectively.  Fuller led all scorers for Kean with 18 points, while Burton added 12.  Kyle Latorre finished with seven points and a team-high 9 rebounds.
For the Dolphins, Petosa contends that the ECAC Championship is a gratifying finish, but the season will always have the backdrop of what could have been.
"These type of seasons don't happen often so I am sure we will always look back on what might have been," he said.  "It doesn't take away from what we've accomplished, however, and this team made so many great things happen, including tonight."
One thing is for certain, the season will go down as one of, if not the best ever in CSI history.  The team set records for wins (28), record (28-3), and longest win streak (24 games).  The 2013-14 Dolphins tied a school record for field goal percentage (50.2%) and its 84.3 points per game average were second-most in team history.  The Dolphins improved their all-time ECAC record to 14-15, and improved to 2-4 all-time in the Championship game.