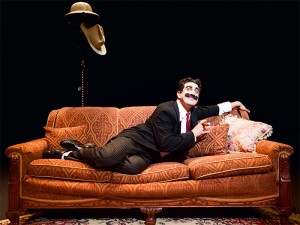 Award-winning actor Frank Ferrante recreates his PBS, New York, and London acclaimed portrayal of legendary comedian Groucho Marx in this fast paced 90-minute show full of hilarity.
An Afternoon with Groucho will be performed on Sunday, May 4, 2014 at 3pm at the College of Staten Island's Center for the Arts (CFA) Williamson Theatre.
Celebrate the madness and music of the one and only–Groucho! This two-act comedy consists of the best Groucho one-liners, anecdotes, and songs including "Hooray for Captain Spalding," and "Lydia, the Tattooed Lady." The audience literally becomes part of the show as Ferrante ad-libs his way throughout the performance in grand Groucho style.
Accompanied by his onstage pianist, Eric Ebbenga, Ferrante portrays the young Groucho of stage and film and reacquaints us with the likes of brothers Harpo, Chico, Zeppo, and Gummo, Charlie Chaplin, W.C. Fields, Greta Garbo, Marx foil, Margaret Dumont, and MGM's Louis B. Mayer.
The show is ideal for all ages.Tickets are $25, 20 and can be purchased in person, by phone, by mail, and online through the CFA Box Office, 2800 Victory Boulevard, 1P-113, Staten Island. Hours: Monday-Friday, 9am to 4pm; Saturday, noon to 3pm; 718.982.ARTS (2787), www.cfashows.com.
Frank Ferrante – (Groucho) is an actor, director, and producer described by The New York Times as "the greatest living interpreter of Groucho Marx's material".
Animal Crackers and A Night at the Opera co-author Morrie Ryskind called him "the only actor aside from Groucho who delivered my lines as they were intended".
Discovered by Groucho's son Arthur Marx when Frank was a drama student at the University of Southern California, Ferrante originated the Off-Broadway title role in Groucho: A Life in Revue (written by Arthur) portraying the comedian from age 15 to 85.
For more information regarding Frank Ferrante's work please visit www.eveningwithgroucho.com