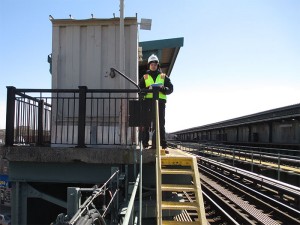 The American Railway Engineering and Maintenance of Way Association (AREMA) Education Foundation recently named Anthony Shalagin a 2014 Scholarship winner.
Each year, the AREMA Education Foundation awards scholarships to engineering students who are specializing in the railway industry and supports other educational and training endeavors that help to ensure the future of the profession.
Shalagin was awarded the Committee 27 – Maintenance of Way Work Equipment–Hougen Manufacturing Scholarship due to his already impressive work experience in the industry and his academic success.
Anthony, a graduate from Brooklyn Tech High School in 2013, says he has always had a fascination with civil engineering, especially with the transportation sector, noting "The railway system is essential to New York City, with over four million passengers relying on it daily to get around the city."
Anthony has plenty of experience working as an assistant project manager and engineering intern for AECOM, a leading global provider of professional technical and management support services to a broad range of markets, including transportation, facilities, environmental, energy, water, and government since this past June.
With AECOM, Anthony has worked on important subway lines that run through New York City such as the "F" and #3 lines, to name a few. He also worked on the Jamaica Wastewater Treatment Plant, and the World Trade Center Transportation Hub. Additionally, he has assisted AECOM Capital and AECOM Vertical Transportation with business development and the procurement of large-scale projects. Recently, Anthony has been spending his afternoons gathering information for structural analysis on subway lines, checking for spalls and cracked elements that need to be replaced.
Anthony is also part of the ACE (Architecture, Construction, and Engineering) Mentor Program, an after-school program for high school students interested in pursuing careers in architecture, construction, and engineering. Students are mentored by architects, construction managers, and engineers and learn what it is like to work in the design and construction industries.
Anthony helps prepare his students for any challenges they may encounter as engineering students. A recent group was tasked with attempting to renovate the Hudson Yards: What was the students' solution? Turn it into an amusement park.  Anthony, who was also a mentee with the program, notes "I will always be in great debt to the ACE Program for all of the dedicated mentors, resources, and opportunities it has provided for me."
John Daza, Program Manager for AECOM, met Anthony through the ACE Mentoring Program. He and several other professionals volunteer their time and develop a mock project with students who are interested in careers in architecture, construction and engineering. He took note of Anthony's "preparedness and maturity," Daza said, discussing the reasons why AECOM offered Anthony a position.
"We offered Anthony a position as an Intern with AECOM in our Transportation business line and he has performed beyond our expectations and on par with Interns in their senior college year." While at AECOM, Anthony has performed duties such as structural inspections, CAD, permitting, research for our capital investment group, construction support services for our Water business line and assisted me on project management-related tasks. "I look forward to working with Anthony as he further develops his skill set as an engineer. He is already part of my team and I hope to have him one day lead some of my teams."
Anthony credits The Verrazano School Honors Program at CSI for helping pursue his dreams.
"The career development opportunities, small class sizes, great contact with the professors, and unconventional open-ended class discussions that promote critical thinking," Anthony says, are the biggest advantages to being part of the Verrazano School.
While he is not entirely sure what his future will hold, Anthony is thinking about pursuing an MS in Civil Engineering and maybe even an MBA. Due to his dedication, passion, and the support structure that The Verrazano School affords him, his future is on the right track.