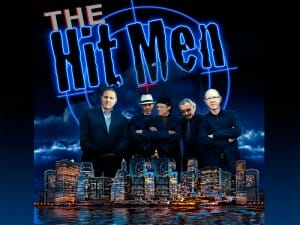 The Hit Men are a collection of hit-makers whose friendships and individual record successes have been interweaving with each other for most of their lives. This group of performers consists of Lee Shapiro, Gerry Polci, Jimmy Ryan, Larry Gates, and Russ Velazquez.
The Hit Men will be presented on Saturday, February 7, 2015 at 8pm at the Center for the Arts (CFA) Springer Concert Hall. Tickets are $40, 35, 30 and can be purchased in person through the CFA Box Office, 2800 Victory Boulevard, 1P-113, Staten Island. Box Office Hours are Monday-Friday, 9am to 4pm; Saturday, noon to 3pm; by phone (718-982-ARTS (2787); and and online via cfashows.com.
Gerry Polci. Lee Shapiro. They may not be household names but back in the '70s, you purchased all of their records. You heard them on the radio. You saw them on TV. You even went to their concerts. So who are they? They're two of the stars of the hit-making factory known as Frankie Valli & The Four Seasons. These guys toured the world with Frankie, recorded numerous hit albums with him, and sang the lead vocals on songs as "Oh What a Night"—the biggest Seasons hit of all time. When they met in 1973, they were two boys from New Jersey barely out of their teens, and The Four Seasons hadn't had a charted hit recorded in years. Along with Valli and songwriter/producer Bob Gaudio, Gerry and Lee successfully transitioned the group's sound from '60s doo-wop to '70s pop with mega-hit songs like "Who Loves You" and "Oh, What a Night."
These former Seasons, who are now in their late 50s and early 60s, decided to reunite along with an A-list group of musicians who wrote, recorded, and performed with super stars as Carly Simon, Cat Stevens, Elton John, Jim Croce, Chicago, Luther Vandross, The Ramones, Carole King, and other acts of the era. They now call themselves, The Hit Men. Their show is an amazing look back through rock and roll history, including fascinating back stories of what is was like being on the road and in the recording studios with Frankie, Tommy, Carly, Cat, Jim, and Elton. The Hit Men perform many Seasons' hits including "Rag Doll," "Dawn," and "Walk Like a Man," to "Can't Take My Eyes Off Of You," "Marianne," and "Sherry." Plus, other mega hits that members of The Hit Men helped make famous such as "Peace Train," "Leroy Brown," "You're So Vain," and "Mony Mony."
Shapiro says, "This show is a chance for everyone to relive the glory days of rock and roll with a great group of guys who actually lived and breathed the experience." You'll walk out of the theater exhilarated, excited, and wanting more.