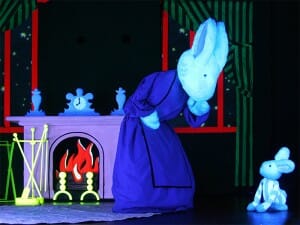 The CSI Center for the Arts presents another fan favorite this season with Goodnight Moon and The Runaway Bunny!
Adapted from Margaret Wise Brown's 60-year-old classic, Goodnight Moon is a celebration of familiar nighttime rituals, while The Runaway Bunny's pretend tale of leaving home evokes reassuring responses from his loving mom. Both feature whimsical animal puppets, stunning scenic effects, and evocative music to provide very young audiences with an effortless introduction to the performing arts and the excitement of reading.
Goodnight Moon and The Runaway Bunny will be held on Sunday, October 25, 2015 at 3pm at the Center for the Arts (CFA) in the Williamson Theatre. Tickets are $20 and can be purchased in person, by phone, by mail, and online through the CFA Box Office, 2800 Victory Boulevard, 1p-113, Staten Island. Hours: Monday-Friday, 9am to 4pm; Saturday, noon to 3pm; 718.982.ARTS (2787), www.cfashows.com. In Goodnight Moon, a young rabbit goes through a bedtime ritual of saying goodnight to every object in sight and in his imagination, from the pictures on the walls to the brush and comb, to the moon and stars, to the old lady whispering "hush." In The Runaway Bunny, a young bunny tells his mother he wants to run away. "If you run away," says his mother, "I will run after you." And so begins an imaginary game of chase. Whatever the little bunny declares he will change himself into—a fish, a rock, a bird, or a boat,—his mother replies that she, too, will change herself so that she can always keep her little bunny safe and protected. Mermaid Theatre of Nova Scotia has earned international acclaim for its unique interpretations of the works of Eric Carle, The Very Hungry Caterpillar, Leo Lionni, Swimmy, Frederick & Inch by Inch, and Sam McBratney, Guess How Much I Love You. On tour since 2008, the acclaimed Goodnight Moon and The Runaway Bunny continues to attract new and returning fans. To date close to 200,000 spectators throughout Canada and the US as well as in Hong Kong and Macau had applauded more than 375 performances.