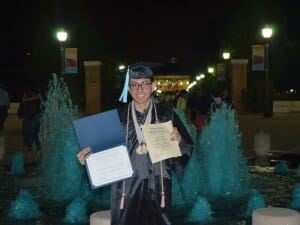 In order to succeed in college, Steve Arriaga '17 has some basic advice: take advantage of all the opportunities school has to offer and be an "overachiever."
The Verrazano School student has certainly followed his own advice. Arriaga will be graduating from the College of Staten Island (CSI) in 2017 with Bachelor of Arts in English: Linguistics and Spanish with a minor in French and a Certificate in Latin American, Caribbean, and Latina/o Studies. He has studied abroad in Europe extensively, attended a research conference in Iceland, presented at the 2015 CSI Honors Convocation, and has been a key member of several Student Life clubs, most recently chartering the Linguistics Club of which he is the President.
A conscientious peer, Arriaga now plans to run for Senior Senator in Student Government so that he can help inform all students about the many programs and scholarships available.
"There are so many great opportunities here at CSI and all students need to know about them," said Arriaga, adding that the professors at CSI are also one of the highlights of the College.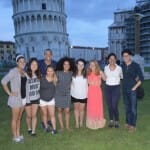 After completing a research paper on syntax variation with Professor Christina Tortora in the Department of English, Arriaga traveled to the University of Iceland to attend the conference. "The teachers here see the potential of their students and they help students maximize that potential," he noted.
The Brooklyn resident who graduated from the New York Harbor School on Governor's Island has also studied in Paris, France and Florence, Italy and is going to Spain in the Winter Session of 2017.
Arriaga is currently working with Assistant Professor Jason Bishop in the Department of English to apply for the Fulbright Scholar Program with an ultimate goal of teaching abroad in South America and then pursuing a PhD in Linguistics.
In fact, Arriaga's CSI employment also helped him solidify his career choice. "Working as a tutor at the CSI Writing Center has been one of the best experiences I've had at CSI this year, since it proved to me that being a future professor and teaching others is truly what I want to do as a career," he said.
To learn more about The Verrazano School, visit their Website.