In 1985, a dedicated professor helped a young Computer Science major secure her first job. An alumna of the College of Staten Island and now a successful Staten Island entrepreneur, Subha Abdallah was one of more than 150 friends, alumni, faculty, staff, and administrators gathered at the Symposium in Honor of the Scientific Contributions of Dr. Michael Kress.
"He was amazing; he was helpful; he was approachable. He made you want to work with him," said Abdallah, a small business owner from Elm Park.
View the CSI Today Photo Gallery>
The Symposium took place in the Center for the Arts with a program of accomplished researchers, colleagues, and professionals discussing a vast array of projects. The evening culminated in a dinner at the Vanderbilt at South Beach that drew a crowd of more than 130 guests who were eager to share in the honoring of and farewell to Dr. Kress.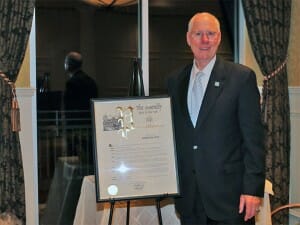 "It's just special to not only be with people I worked with years ago but to share with the College community what they have accomplished with such a broad spectrum of applications," Dr. Kress said.  He noted such aspects as using the Supercomputer to better understand how to make Staten Island a safer place, making direct reference to the Symposium's segment on "Modeling and Simulation of Storm Surge on Staten Island." The segment was delivered by CSI President Dr. William J. Fritz, Engineering Science and Physics Lecturer Dr. Alan Benimoff, and the CUNY Interdisciplinary High-Performance Computing Center's (HPCC) Parallel Applications Specialist Dr. Eugene Dzedits. This presentation, as well as "Go to High Ground," delivered by Research Scientist Caitlyn Nichols and Research Assistants Jennifer Freund and Shenuque Tissera, discussed studies on Superstorm Sandy and how to make Staten Island safer in the event of another devastating storm.
Dr. Fritz stressed that the Symposium "is celebrating more than supercomputing as we celebrate Dr. Kress's contributions to the College. He brought multidisciplinary teams together while other centers typically focus on a single discipline. There are a lot of respected speakers here and this reflects the admiration Kress has earned from faculty, staff, students, and administrators."
CUNY Vice Chancellor for Research Dr. Gillian Small noted "one reason Mike Kress is such a success is that he considers himself a scientist and a researcher first." Dr. Small commended Dr. Kress for being "a class act."
The program began with welcoming remarks from Erica Zito'12, a teacher at Questa High School in New Mexico.
Hearsay Cart, LLC co-owners Maryellen Smolka and Nicole Dory next presented on "Voice to Text" with John Bouma, Director of CUNY Network Services. Outlining the history of Communications Access Real-time Translation (CART) services beginning with the initial establishment of the Resource Center for the Deaf and Hard of Hearing, Smolka and Dory thanked Dr. Kress for his consistent support of CART services at CUNY, including his efforts to secure initial funding for the Center.
Professor Emeritus of Mathematics Dr. Albert A. Blank and Director of CUNY Computer Center for Visually Impaired People Dr. Karen Gourgey also spoke about "Calculus for the Blind."
The keynote address, "The World of Big Data," was given by Dr. Richard Murphy, Senior Advanced Memory Systems Architect at Micron Technology Inc., Dram Solutions Group. "This is an exciting place to be," commented Murphy, an expert in his field, focused on future memory platforms, including processing-in-memory, at the Idaho-based company.
After breaking for a brief lunch, Dr. Fritz addressed the crowd in the Lecture Hall and reflected on technology's past, from older computers to the complex and high-speed devices of today. Dr. Small as well as CUNY President and Chief Executive Officer of the Research Foundation Dr. Richard Rothbard and CUNY Vice Chancellor (VC) and University Chief Information Officer (CIO) Brian Cohen also gave comments and thanked Dr. Kress for his years of service. Focusing on the futuristic HPCC, Dr. Rothbard commented that, "None of this would have happened without the leadership and vision of Mike Kress."
VC Cohen recalled his first meeting with Dr. Kress in 2001 when the two toured the then new CSI Willowbrook campus. At the time, VC Cohen asked Dr. Kress what he could do for Dr. Kress and the College. He chuckled when he retold Dr. Kress's retort: "Stay out of my way," Kress had said.
After Kress's efforts in establishing the HPCC as well as all of his accomplishments in higher education and beyond, VC Cohen reflected and confirmed that, "You were right that we should stay out of your way. You are a visionary; you are a scholar; you are a mentor. You've mentored old CIOs, new CIOs, and this CIO.".
Later in the program, Dr. Jonathan Peters, Accounting and Finance Professor at CSI, and Dr. Hyoung Suk Shim, Assistant Professor of Accounting and Finance at The Graduate Center, CUNY, presented on "NYC Taxi Rides."
An informative presentation entitled "Naked Mole Rats" was led by CSI professors Dr. Susan Imberman, Associate Professor of Computer Science, and Dr. Edward Meehan, Professor of Psychology. Dan McCloskey, Associate Professor of Psychology, was not in attendance, but he provided a video recording of some of his work with naked mole rats.
Dr. William Grossmann, Dr. Kress's professor and mentor in 1968, also sent a videotape from his home in Berlin. Dr. Grossmann reflected on the 1130 Scientific Computer at Richmond College as well as Grossman's  scientific accomplishments at the Courant Institute at New York University and the Science Application International Corporation as a research scientist in computational magneto fluid dynamics.
Professor Emeritus of Anthropology Dr. Sonia Ragir discussed "Learning as an Evolutionary Force: A Simulation, and the "Little Fe Cluster Computer" presenters included HPC Systems Architect for CUNY's HPCC Michael Constantino, Assistant Networking Engineer at CSI Jonathan Parziale, CSI Research Assistant Timothy Smolka, and CSI Adjunct Lecturer in Mathematics Daniel Kurzwell.
Paul Munzio, Director of CUNY's Interdisciplinary HPCC, presented on the evolution of computers in "CSI Computers."
To further celebrate Dr. Kress's distinguished career and years of outstanding service to CSI and Staten Island, a scholarship fund has been established in his honor. The Michael Kress Scholarship Fund in Interdisciplinary Computer Science will be a merit-based scholarship, supporting outstanding students in interdisciplinary fields as they relate to computational study.