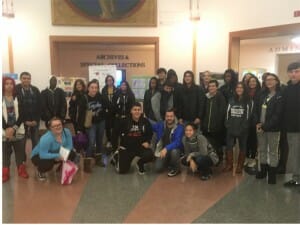 On November 16, people from all around the globe celebrate Geographical Information Systems (GIS) Day. The international forum was especially noteworthy at the College of Staten Island (CSI) as it marked the 11th annual event.
As GIS Day falls within Geography Awareness Week (always on a Wednesday), the College hosted several lectures and workshops over the course of the week, focusing on the use of GIS technology in real-world applications that are making a difference in society today.
Students from New Dorp and Staten Island Technical High Schools visited CSI as part of the 30,000 Degrees initiative to participate in a comprehensive agenda led by CSI faculty, staff, and students. This was the first year that high school students have been invited to participate in GIS Day. They participated in three different workshops with faculty and staff:  the Great Fire of London, 1666, the Great Plague of London, 1665, and the Proposed Lynx Habitat Sites.
Faculty presentations during the week included lectures by Alan I. Benimoff, PhD; Simone A. Wegge, PhD; and Stephen Ferst, EdD. Also each year, CSI celebrates GIS day with a display of maps in the Library Rotunda. The maps showcase how CSI students and faculty use GIS in different disciplines.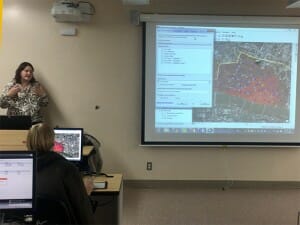 Organizer Nora Santiago, GIS Specialist, noted that, "Geographic Information Systems is a tool that many of us use but we are not aware of it. Your app or Website is relying on GIS technology when you are looking for the nearest place to eat or shop. GIS is a backbone of many online services and games today. GIS allows for processing spatial data quickly and accurately, making it an essential tool for companies and government agencies."
"These GIS workshops provided high school students with a meaningful college campus visit, access to lab space and faculty, and an opportunity to engage in a 21st Century skill, which we see more and more of in the college and work place setting. This is the kind of exposure we seek to create, and extend to our high school students. It sends the message that college is within reach, and that there are tangible skills and personal growth that can be gained from the experience," commented Crystal Montalvo, Director of the 30,000 Degrees initiative.
The first formal GIS Day took place in 1999. Esri, an international supplier of geographic information system software, web GIS and geodatabase management applications, president and co-founder Jack Dangermond credits Ralph Nader with being the person who inspired the creation of GIS Day. He considered GIS Day a good initiative for people to learn about geography and the uses of GIS. He wanted GIS Day to be a grassroots effort and open to everyone to participate. For more information, visit the GIS Day Website.
Next year's GIS Day will take place on November 15, 2017.