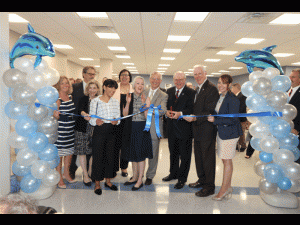 The College of Staten Island (CSI) returns to its origins on the North Shore as Stuyvesant Place once again becomes home to the College.
The CSI St. George Ribbon Cutting Ceremony officially announced CSI St. George, the College's new location, which will begin offering courses to matriculated students in the upcoming Fall 2017 term.
Local politicians, CSI officials, City University of New York (CUNY) representatives, and community members gathered at the historical event as the College seats itself in its original St. George home at 120 Stuyvesant Place. As the College expands its presence on the  North Shore with an already well established CSI Tech Incubator, there is confidence that the strategic location will attract prospective students to the new location.
In a monumental and historical step in going back to its beginnings, CSI St. George solidifies the College's strong presence in the resurgence of Staten Island's North Shore.
"This day represents a significant milestone in the history of the College of Staten Island. I can't believe this day has finally come – the day when the College of Staten Island returns to St. George and not only returns, but returns to the exact same space that was once part of Richmond College," commented CSI President William J. Fritz.
Memorably, CSI's predecessor institutions, Richmond College and Staten Island Community College (SICC), resided in adjacent addresses on Stuyvesant Place. The CSI Tech Incubator is, in fact, housed in the former space of the SICC Library.
"A few years ago I started to realize that no matter how great our Willowbrook campus is we really lost something when CUNY and CSI left St. George — and that something is access," Dr. Fritz stated, noting that students who utilize public transportation may find CSI St. George more convenient than the Willowbrook campus. "Providing access to these North Shore residents and giving them the means (a College degree) to achieve the American Dream was and is my vision for this project."
The President also outlined plans to offer master's and certificate level graduate courses at CSI St. George to provide access to commuters working in Manhattan. CSI's newly planned doctorate, an Ed.D. in Community Leadership, will be housed at CSI St. George as well.
Within walking distance from the North Shore's Transportation hub, CSI St. George's completely renovated 16,000 square foot facility will offer 10 large Smart classrooms; a state of the art computer lab; a spacious student lounge with open computers; a dedicated on-site Student Services Center; diverse course offerings & scheduling opportunities that satisfy degree requirements for new and first year undergraduate students and, for select programs in Education, graduate students; day, evening, and weekend schedules; and flexibility to also enroll in courses on the main Willowbrook campus, which is easily accessible via the CSI Ferry Shuttle, and to take advantage of all the sports, clubs, and academic and personal support services that the College has to offer.
"This is an exciting day for the College.  It's the culmination of many years of planning, advocacy and finally construction.  And now we have this unique opportunity to further serve Staten Islanders… We're thrilled to have the inaugural class this fall. These students will receive the same world class education as our Willowbrook students," said Jennifer Borrero, Vice President for Student and Enrollment Services.
CSI St. George aims to attract individuals from this area, given the College's new proximity to neighboring North Shore areas. Lending greater opportunity in a vibrant and growing neighborhood, CSI St George provides students with the option of a two- to four-day schedule at convenient times with quick access to college resources and dedicated staff.
"Housed in our on-site Student Services Center, the staff hired for these newly-created positions will offer one-on-one support in all areas of Enrollment Management and Information Technology, including Admissions, Financial Aid, Advisement, Registration, Bursar, IT Help Desk, and more, as well as administrative and technical support for faculty teaching at CSI St. George. These individuals will work closely with their counterparts on the main Willowbrook campus to coordinate and ensure effective and efficient delivery of services to all members of the College community," noted CSI St. George Director Mario D'Alessandro.
Dr. Fritz also thanked elected officials, CUNY representatives, and members of the CSI community. "This was an example of incredible teamsmanship. Thank you everyone. Thank you for your teamwork, thank you for your support of CUNY, Staten Island, and CSI St. George," he said.
View the NY1 segment on the CSI's YouTube page.
The event was also featured on SI Live.com.