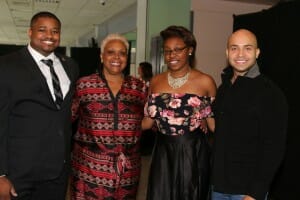 At one point when Dolores Morris was writing "The Soldier That Wagged Her Tail: A Black Veteran's Story of WWII," her memoir about her father's World War II experiences, the story was lost – literally. She left the manuscript with a copy shop for photo copying and they lost it.
It was just one hiccup for a story that took decades to tell. Ultimately, her father only began recounting the anecdotes that make up the book after celebrating the 50th anniversary of the war's end.
On Sunday, October 21, the Friends of CSI's annual Literary Brunch featured Morris, attracting almost 100 supporters of the College. The event's lead sponsor was Victory State Bank, with generous event support from Carol and Rocco Berardi; Joanna Pizzolo, '77; and William M. Roane, '87.
"Literature is fundamental to education and the annual brunch allows us to shine a light on those who have contributed to the literary tradition," said Cheryl Adolph, CSI's Executive Director of Institutional Advancement and External Affairs. "Dolores's memoir is perfect in many ways and particularly meaningful because it pays tribute to all veterans and their service to our country."
At the brunch, two student-veterans participated in readings from the book, adding poignancy. Derrick Reuben, a Staten Island native, is a United States Army veteran who served as a Combat Engineer. He is now a pursuing a Bachelor's degree in Drama and has appeared in shows on TV and Netflix.
Naomi Gordon, who hails from Connecticut, is currently serving in the United States Army Reserves with the 874th Transportation Unit on Staten Island. She is pursuing a degree in Business Management at the College.
"We thought it would be particularly fitting to have our student-veterans read from the book because of their service," said Laura Scazzafavo, Director of CSI Veterans Support Services.
"The brunch is always a very popular event for the Friends of CSI," said their College liaison, Jennifer Lynch, Associate Director of Annual Giving. "The funds raised go a long way toward helping our students, particularly with scholarships."
In The Soldier That Wagged Her Tail, Morris recounts her father's experiences in some of the war's greatest moments – the landing of American troops at Normandy and the capture of Nazis as the Army advanced across a devastated European landscape.
William Morris had enlisted at age 17 as one of 1,300 young African American soldiers in the 369th Harlem Hellfighters #20266. He shipped out from San Francisco to Pearl Harbor in 1941, which was still reeling from the surprise attack of the Japanese.
"It was two weeks after the bombing," William Morris recounts to his daughter, as presented in the book. "Oh my God, I'll never forget the sight. Ships were on their sides in the still smoldering harbor. Buildings destroyed, our planes blown apart…some still on fire."
After about a year, he received orders to serve overseas in Europe.
"You couldn't guess where we went first," he says in the book. "Staten Island – yes, my hometown – to Pouch Terminal, so the ship could load for our trip overseas. Women were working the forklifts and the pier was loaded with people and equipment. My family didn't live far away but I couldn't call or leave the ship…"
The soldiers went to Southampton, England, where Morris met Trixie, the "soldier that wagged her tail." Sgt. Morris oversaw 16 drivers and trucks loaded into LSTs (Landing Ship, Tank, or tank landing ships, which is the naval designation for ships built during World War II to support amphibious operations by carrying tanks, vehicles, cargo, and landing troops directly onto shore with no docks or piers).
His first heavy action occurred in June 1944 at the D-Day landings, the beginning of the Allied campaigns to liberate northwest Europe from German occupation.
Morris paints the picture of her father's experiences in the book: "I prayed…There was no time to cry. Just keep driving…I could get a bit up the hill, then an explosion or boulder forced me back. There was no road, no planned path to follow….I had to keep driving, turning and maneuvering around the holes, the explosions, the rocks, the bullets.
"Trixie saw everything…She was a witness to this day, a witness to this sacrifice for freedom. I drove all day, all night and I drove all the next day….We got to the top. All sixteen trucks, my entire unit, made it to the top. It was a miracle."
Morris also saw action in the Battle of the Bulge (1944), and recounts how Trixie saved his life on more than one occasion. The dog was also wounded at one point, but survived.
Finally, in the summer of 1945, Morris headed home. He smuggled Trixie in his duffel bag on board the ship, and then to a family friend, one of the women working at the dock at Pouch Terminal, Staten Island. Trixie lived out her life in Staten Island with her beloved owner who passed away at age 99 in 2018.
The Soldier That Wagged Her Tail is published by KCM Digital Media, LLC.