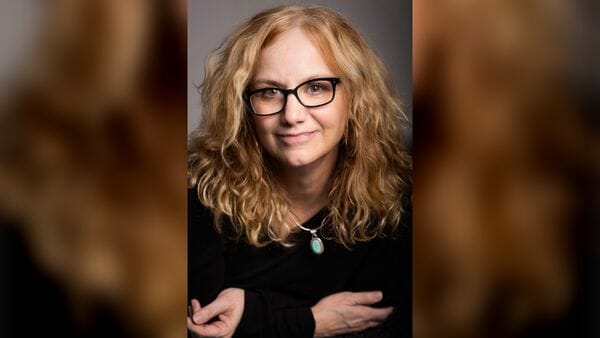 The English Department's Schwerner Writers Series hosted Staten Island Poet Laureate Dr. Marguerite Maria Rivas on October 29 in the Center for the Arts Screening Room.
Dean Sarolta Takács opened the event by talking briefly about serving on the committee that recommended Dr. Rivas's appointment as Poet Laureate. Then, Lee Papa, Chair of the English Department, introduced Dr. Rivas.
Dr. Rivas read from her anthology Tell No One: Poems of Witness and also a number of new poems. Some of the topics that she covered were 9/11, her hobby of welding, and her Peruvian roots, which was inspired by a report of scientists discovering the mummified remains of a young girl in Peru. Dr. Rivas related how she was appalled by the idea that the remains would become the subject of study, as she felt the body should just be left to rest in peace.
In the Q&A session that followed Dr. Rivas's presentation, a member of the audience asked her how welding and poetry were connected. She mentioned that the activities were vastly different in nature, but were both acts of creation.
Dr. Rivas is a native Staten Islander who graduated from Tottenville High School. She holds associate's, bachelor's, and master's degrees from the College of Staten Island. After receiving an MA in English, she enrolled in a doctoral program at Drew University. She taught at the College of Staten Island as an adjunct professor while pursuing her doctoral studies at Drew. She is currently an Associate Professor of English at Borough of Manhattan Community College where she teaches writing and literature.
Her title as Poet Laureate is a four-year, unpaid appointment, based on the recommendation of a selection committee comprised of Borough literary and arts specialists. In her position, Rivas performs community outreach and advocates for poetry and literacy in the Borough.
Founded in 2003, the Schwerner Writers Series invites accomplished and emerging poets, fictionists, and essayists to visit the College of Staten Island and read from their work. The readings are free and open to the public. The series is a crucial part of the cultural lives of members of the CSI community, providing students, faculty, staff, and Staten Island residents with an opportunity to interact with visiting writers and have conversations about literary craft and the writing life.
By Lara Saguisag and Terry Mares