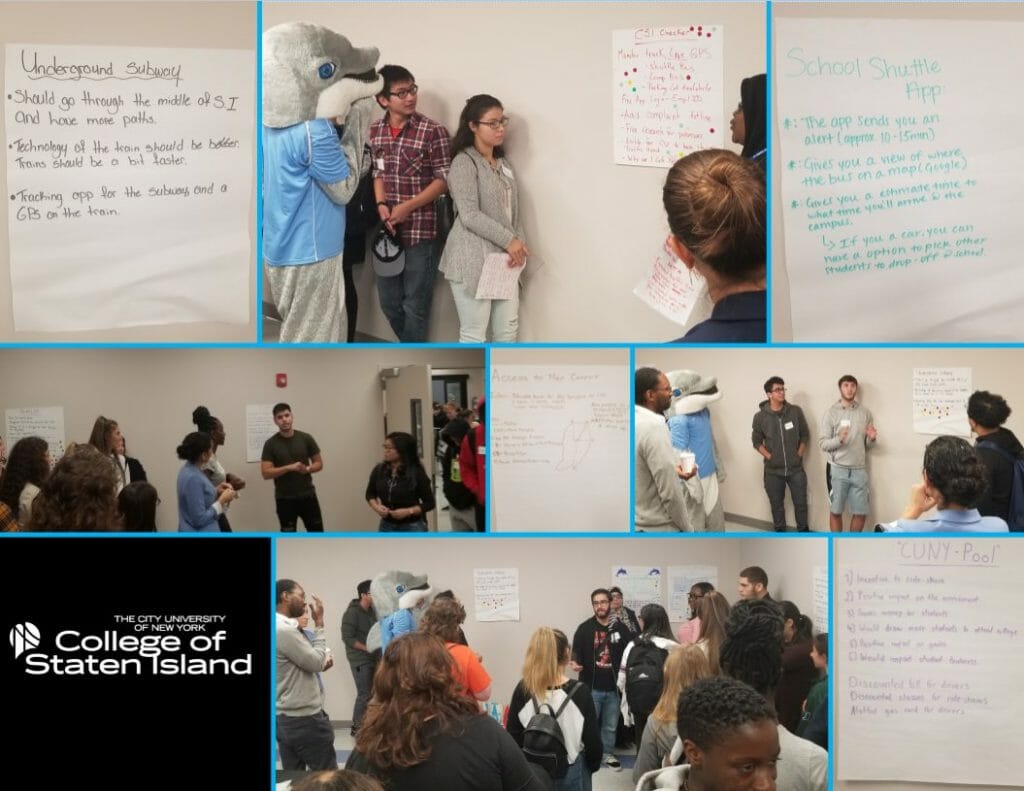 On September 20, 2019, the College of Staten Island/CUNY (CSI) participated in the National Day of Civic Hacking, through the "CSI Transit Hack," a half-day workshop and brainstorming session where students, staff, and faculty "hacked" data informed solutions to address Staten Island's most complicated transit and parking challenges.
Inspired by Beta NYC's #Mobility4All event, approximately 60 students started the day with Dr. Johnathan Peters, renowned researcher, economist, and CSI professor, on the transit woes of the forgotten borough. Dr. Peters high-impact lecture was followed by breakout sessions and small-group dialogue facilitated by CSI community partners, staff, and student volunteers, using the World Cafe Model.
Students came up with thought-provoking and fresh ideas for short- and long-term solutions. Most of the ideas were centered on smart phone app development, providing critical information to the campus community, in real time, on campus parking availability, ride-sharing opportunities, and bus scheduling changes and delays. Other students were advocates for additional services like increased bus shuttles from neighborhoods, with the most amount CSI students and staff. Our most ambitious students rallied for an underground subway system; since Staten Island is the only borough without this critical public transit artery.
The CSI Transit Hack is one example, and springboard into CSI's participation into the nascent field of public interest technology; educating a new generation of civic-minded technologists and digitally fluent policy leaders.
This event was sponsored by CSI's Office of Community Educational Engagement, within the Division of Economic Development, Continuing Studies, and Government Relations. We'd like to give a special thanks to Rev. Dr. Katie Cumiskey, one of two CUNY's PIT grant recipients, for integrating this community engagement experience within her PSY 100 course.
By Crystal Vera-Montalvo