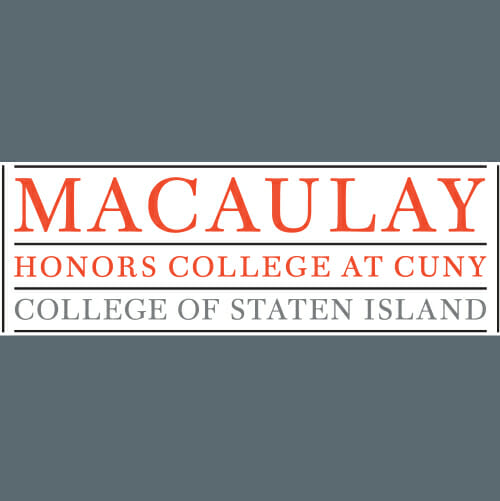 Macaulay Honors College has received a generous $200,000 grant from GS Humane Corp., a private charitable foundation, allowing the college to expand its Bridge program, which creates a pathway to honors education for transferring CUNY community college students.
"I'm very excited about this grant," said Macaulay Dean Mary C. Pearl, "because it allows us to provide the Macaulay honors experience to students who would not otherwise have the opportunity."
This grant will have an impact at the College of Staten Island, which participates in the Macaulay Honors College. Gerry Milligan, Director of the Macaulay Honors College at CSI, said, "The Macaulay Bridge program recognizes that students realize their academic potential on differing timelines. Some students flourish only after high school. Upon arriving at CSI, a student may possibly meet a professor who supports them for the first time, or discover a discipline of ideas that they never knew existed, or experience that their abilities far exceed what others or they themselves believed possible. The Macaulay Bridge program identifies these rising stars in their first year and welcomes them into one of the top-ranked honors programs in the nation. Their inclusion in the Macaulay Honors College at the College of Staten Island enriches the entire campus by helping to build a broad inclusive community of scholars."
The transfer program targets students who have already demonstrated strong potential for success in their community college courses. They begin an intensive honors education while still completing their associate's degree and then join their Macaulay cohort as sophomores to continue and complete an honors bachelor's degree. All transfer students receive the same benefits as all Macaulay students: a tuition scholarship, a laptop computer, intensive mentoring and advisement, priority course registration, and access to an exclusive fund to pursue global learning, research, and field work. A pilot of the program, begun in 2017, clearly demonstrated that CUNY's community colleges have outstanding students ready for the challengeof a Macaulay Honors education.
Macaulay will enroll a new cohort of 20 students, who will be based at the College of Staten Island. The grant will provide faculty and staffing, laptops and technology assistance, core seminar and student-focused enrichments, and recruitment preparations and programming.
"We are thrilled that Macaulay will be able to welcome these high-achieving community college students, through the Bridge Scholars Program, to our honors community" said Joseph Ugoretz, Macaulay's Chief Academic Officer. "The Bridge Scholars deserve the chance to stretch and challenge themselves educationally, and they will enrich all our classrooms and their fellow Macaulay students with their diverse experiences and perspectives. I look forward to welcoming them to our community!"
GS HUMANE CORP is a private charitable foundation established by and to honor the legacy of the late Gene Shapiro. GS Humane believes that enabling organizations that educate communities on the humane treatment of all living beings and assist with the achievement of this outcome will produce a society that will be more tolerant of differences and lead to greater opportunity for all.