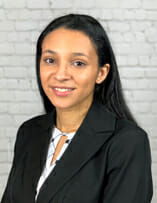 Macaulay Honors College at CSI student Syleste Alexander has been accepted to the CUNY Cultural Corps, where she will work on a project that documents what past and present Service Corps participants have experienced while in the program.
Syleste shared her thoughts about Macaulay and her new role in the CUNY Cultural Corps:
"As a Marketing major with an interest in management and art history, Macaulay at CSI was the gateway for me to take part in amazing internship opportunities in the heart of New York City that were perfect for my career path.
"Currently, I am able to take part in bringing the arts to my College community in various ways. Through my internship with CUNY Creative Arts Team through CUNY Cultural Corps, I am able to gain professional development skills while also being a part of the arts sector. Through volunteering at the Metropolitan Museum of Art as a member of the Met Collective, I am able to bring my perspective as a college student to help make the museum more accessible and appeal to a college audience.
"In previous summers, I participated in two professional development experiences as both a Student Ambassador for CUNY Arts and the Museum of Modern Art, and as a Business Development Intern at Reel Artistry. As a MoMA Ambassador, I was able to experience the MoMA behind the scenes. My peers and I took part in several private seminars at the MoMA, which focused on different aspects of working at the museum, such as curation, preservation, and art history. During these seminars, we were also given the opportunity to discuss how CUNY students can get more involved in the art museums available in New York City. At Reel Artistry, I was given the chance to work as a business development intern, while also being involved in a company that shared my passion for theater and the arts. I gained experience in business administration and digital organization, as well as working on marketing projects for the company.
"Currently, I am working as the Social Media Intern for the Macaulay Honors College, where I attend student development meetings, and manage and curate posts for both Instagram and Facebook!​"
By Editor