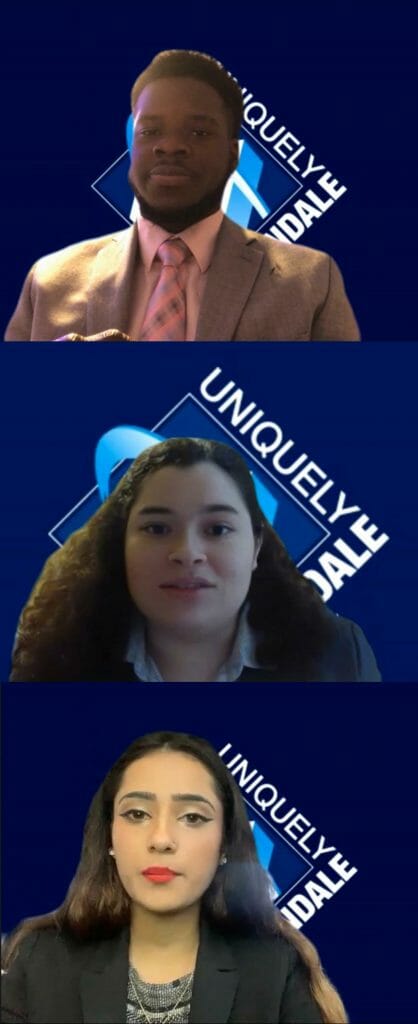 Following a first-place finish last year, a team of students from the Lucille and Jay Chazanoff School of Business at the College of Staten Island (CSI) has again taken the top prize in the annual Government Finance Case Challenge from the Association of Government Accountants (AGA).
The Government Finance Case Challenge is a national competition that began in 2015. At the undergraduate level, three teams from across the country were chosen for the finalist group this year, with two of those teams coming from the Chazanoff School of Business. The 2019 winning team from the Chazanoff School was at the graduate level.
Many of this year's participating students were enrolled in ACC 305 (Intermediate Accounting), and took part in the competition under the mentorship of Professor Patricia Galletta, who also serves as the Deputy Chair for Accounting in the Department of Accounting and Finance. Teams received a substantial packet of material and supporting data related to a city chosen by the AGA, from which the students had to prepare a summary document that followed Citizen-Centric Reporting (CCR) guidelines. The CCR aims to lay out in a clear, simple document exactly how governmental agencies are utilizing public resources.
This year's focus was the small city of Urbandale, IA, which has a population of around 44,000. While it might seem that this location could be difficult for CSI students to relate to, one student, Emily Peters, noted that "Urbandale is suburban, but is very close to the major city of Des Moines … we thought that was very similar to our hometown here in Staten Island."
After being selected as finalists at the end of October, the two Chazanoff School teams had to quickly move on to the last stage of the Challenge. This required them to submit a 20-minute video presentation of their findings, modeled as a public meeting in which the students played the role of city council members. The students discussed the city's accomplishments and challenges from the previous year, along with any anticipated plans for the future. The "council members" also took questions from a public audience. Social distancing guidelines meant that innovation was a key element in preparing the videos this year; the winning team of Aqsa Naz, Angelyne Acevedo, and Olaitan Okeowo submitted a video that was drawn from a recorded Zoom session, while the video from Emily Peters, Jennifer Stanley, and Mordecai Chrem was filmed outdoors, with participants sanitizing their microphones and wearing masks when not speaking.
During the planning process for their presentations, Professor Galletta arranged a virtual meeting between this year's teams and two of last year's winners, Mohamed Hussein and Richard Pallarino. Both alumni were keen to provide their insights about how the students could enhance their presentations. In addition to these suggestions, Professor Galletta noted that the AGA competition judges provided "detailed, rigorous, and comprehensive feedback," that "added to the tremendous value of this learning experience for our students."
Each team also recorded a short reflection on the Challenge, commenting on what they had learned from the experience. Olaitan Okeowo said that he "learned a lot of analytical and research skills" as part of the process of developing their CCR, including "a whole newfound level of respect" for all the thought that goes into producing a chart or graph that clearly conveys useful and relevant information. On a similar note, Mordecai Chrem, who was in his first semester as a declared Accounting major, said that he "really got to see what it was like to be in the trenches with the math."
Dr. Susan Holak, Founding Dean of the Lucille and Jay Chazanoff School of Business, praised all of the participating students and their professor. "Congratulations to all who were involved – particularly the members of the winning team! We are thrilled by this astounding achievement, that demonstrates how our students are acquiring highly relevant and applicable skills and knowledge. These challenge competitions truly show the value of experiential learning, as a way to help students see themselves in real-world situations outside of the classroom."
Summing up the experience from the student point of view, winning team member Aqsa Naz passionately emphasized that the experience provided the answer to the common student question, "Professor, when are we ever going to use this in real life?"
"The CCR…" says Aqsa, "THIS is when we are going to use this in real life!"
By Warrick Bell