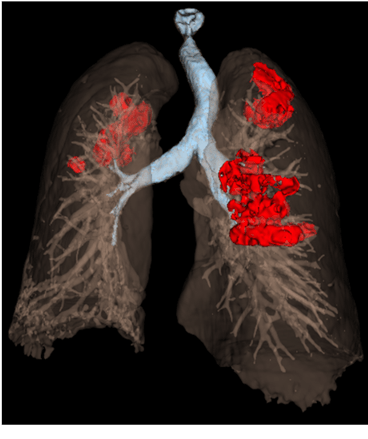 Sos Agaian, Distinguished Professor of Computer Science at the College of Staten Island, is working with an international team of scientists in the fight against COVID-19.
The core of the group, which consists of Dr. Thaweesak Trongtirakul, Rajamangala University of Technology, Phra Nakhon, Thailand; and Dr. Adel Oulefki, the Center for Development of Advanced Technologies (CDTA), Algeria, formed about a year and a half ago under the direction of Dr. Agaian, whose work revolves around computer enhancement of images. Working remotely through the CSI Department of Computer Science's Computational Vision and Learning Laboratory, their initial work examined topics such as oil spills and breast cancer.
With the onset of the coronavirus pandemic, the team recognized the urgent need for an automated system to detect and measure COVID-19 accurately, with the goal of employing this new technology in developing countries.
In order to realize this plan, additional scientists from a variety of different university and industry backgrounds were brought onboard: virtual reality researchers and engineers Nadia Zenati, Benbelkacom Samir, and Aouam Djamel from CDTA, and attending radiologist Dr. Kassah Laouar of the EL-BAYANE Center for Radiology and Medical Imaging in Algeria.
Once assembled, the team's first objective was to create a computerized automatic detection, visualization, and measurement system for COVID-19 in the lungs, assessing the infected region's volume with the aid of CT-scan images.
So far, Agaian reports that doctors are very enthusiastic about using the system and continuing to work with him and his team. One of the latest groups to collaborate consists of engineers and medical doctors from Tufts University, including Dr. Karen Panetta, Dean of Graduate Education and Professor of Electrical and Computer Engineering, School of Engineering; PhD student Foram Sanghavi (Electrical and Computer Engineering Department); and Dr. Neel Madan Radiologist of Tufts University School of Medicine.
According to Agaian, "The team's short-term future efforts will focus on creating a computerized system that can help:
to detect COVID-19 symptoms using multi-view-based 3D shapes, which is one of the fundamental challenges of computer vision—drawing interpretations about the three-dimensional (3D) world from two-dimensional (2D) images;
to test surfaces for coronavirus; and
to analyze the long-term effects of COVID-19 in patients who have recovered from the disease, since these symptoms can last for weeks or even months after recovery from acute illness. Even people who haven't been hospitalized can experience persistent or late symptoms. We are currently preparing data for acute pulmonary embolism, which mimicks COVID-19 pneumonia, and is associated with a transiently increased risk of venous thromboembolic events involving blood clots in deep veins."
By Terry Mares