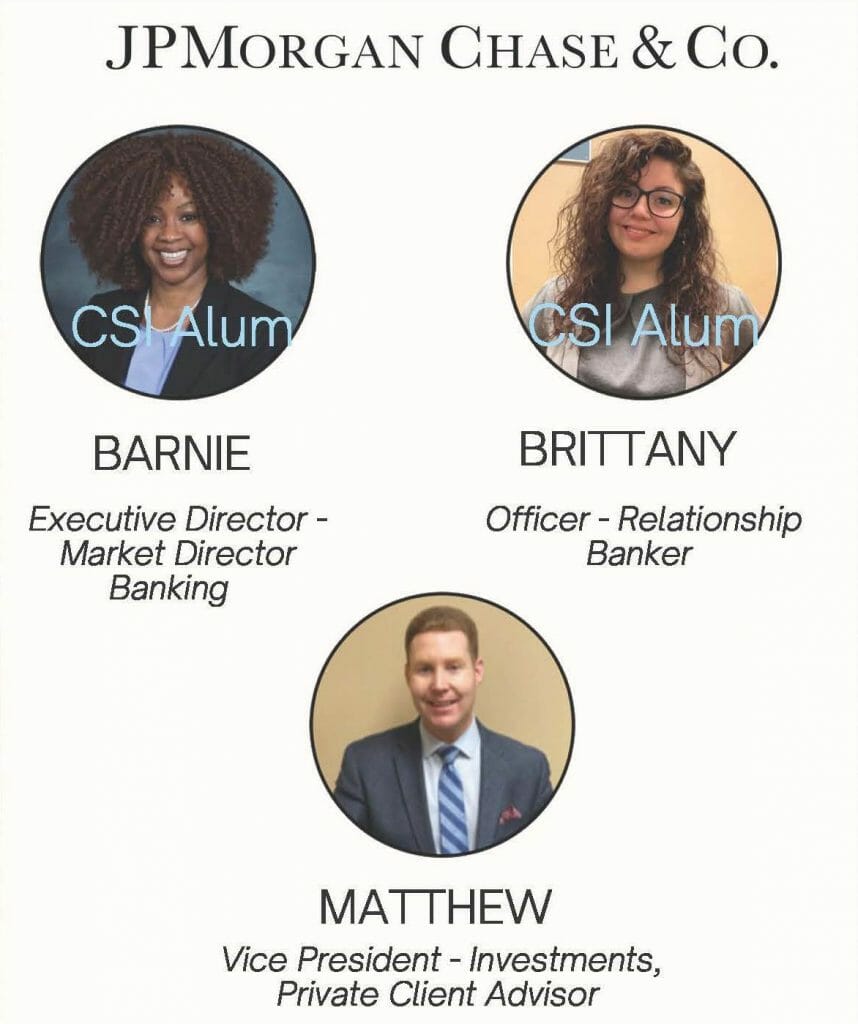 The Finance Club of the Lucille and Jay Chazanoff School of Business recently held an online speaker event involving three CSI Management alumni at various stages of their careers, all of whom currently work in the finance and banking fields at JPMorgan Chase.
Organized by Finance Club President John Buscini and the other club officers, with the assistance of Andrew Colbeck, Technician for the Con Edison Trading Room, the event included Barnie Keller, Matthew Fleming, and Brittany Fumando. The participants spoke about their current positions, as well as the varied career paths that brought them to Chase. As the most recent graduate, Brittany touched upon her college years along with her other work experience, noting that "CSI can really make a difference with helping start a career and a bright future." Matthew spoke primarily about his experiences at Chase, as well as his positions prior to being hired there. Barnie discussed some of her background and noted that there are a large number of alumni from several CUNY schools at Chase, including many from CSI.
Each participant spoke about the culture of their workplace and the importance of understanding it, the critical need to network with colleagues and contacts, and the benefits of developing a relationship with a mentor. One point that was strongly emphasized by the speakers was the advantage of micro-credentials on a candidate's resume when they apply for a position. For the financial sector, these can include passing the Securities Industry Essentials (SIE) exam, the General Securities Representative Exam (also known as Series 7), and the Uniform Securities Agent State Law Exam (Series 63), all administered by the Financial Industry Regulatory Authority (FINRA). Some Chazanoff School students have already begun achieving some of these qualifications prior to graduating – Andrew Colbeck is available to provide useful information and guidance in this area.
The Finance Club is to be commended for its initiative in engaging and bringing together these alumni for this valuable event. The Founding Dean of the Chazanoff School of Business, Dr. Susan Holak, expressed sincere gratitude to the former students who took time out from their own busy schedules to help build connections and impart knowledge to the next generation of graduates. Speaker Matthew Fleming summarized this, noting that "CSI and [the Department of Accounting and Finance] continue to provide excellent direction to the many minds they're committed to molding."
The Chazanoff School of Business looks forward to providing many more opportunities to engage with our alumni in different fields, and fostering connections between them and our current students.
By Warrick Bell