This is the fourth in a series of articles in CSI Today that will examine the professional effects of the COVID-19 pandemic on the College's Front Line Workers, and their determined efforts to ensure the safety of our campus. The Office of Campus Planning is under the supervision of Hope Berte, Vice President for Campus Planning, Facilities, and Operations. VP Berte commented that "There are many staff in the division who should be recognized for their outstanding commitment and dedication during these unprecedented circumstances. All have worked under the direct guidance of each of the managers who are spotlighted in this series."
In the days before the pandemic, Campus Planning oversaw all aspects of large-scale capital projects on campus from the planning stages through completion. Jorma Loci, Project Manager with the Office of Campus Planning, added that the office was also responsible for "designing, managing, and supervising in-house projects for renovation of existing facilities throughout the campus while maintaining compliance with relevant laws, regulations, and CUNY standards."
In addition, Loci, who is a registered architect, works with the Commencement Committee to coordinate activities for that special day when students receive their degrees, secures Certificates of Operation with the Department of Buildings, and collaborates with the VP of Campus Planning, Facilities, and Operations to formulate the College's five-year capital plan requests.
The landscape for Loci and Campus Planning obviously changed with the onset of the pandemic, and the eventual preparations to have a Fall 2021 semester with more students, faculty, and staff on campus, with a sharper eye toward safety. "Along with the other members of the Campus Re-entry Committee charged with the Campus Preparedness/Safety," Loci explained, "we have worked with proposing short- and long-term recommendations for a staged re-opening since the start of the pandemic. Throughout this time, we have worked as a team to review, prepare, and implement a campus re-entry plan in line with the continuously changing CDC, State, and CUNY guidelines to allow for a safe campus environment."
Some of the specifics of that process for Campus Planning included creating campus-wide signage and social distancing occupancy plans, while tending to ongoing construction projects that were considered essential during the pandemic. Loci added that "We have been doing numerous walk-throughs in the past few months with departments in reviewing their space needs as we near the Fall semester and continue to offer assistance with the implementation of the social distancing guidelines in the different areas of our large campus. As a team, we are here to offer all the help and clarity needed in assessing all the different areas on campus and to be able to ease staff, faculty, and students back."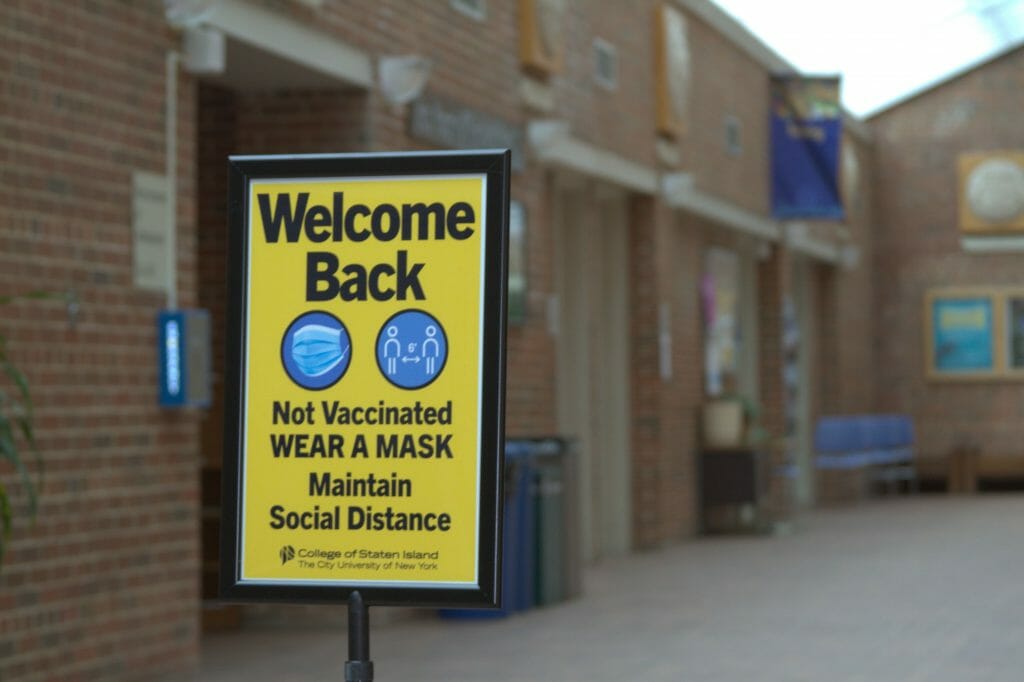 Through it all, Loci was able to find a bright spot—a sense of solidarity that was fostered among her entire team and other offices as they prepared the campus for re-entry. She also said that being a part of the planning process for the Grad Walks that took place on the Willowbrook Campus in June was an emotional experience.
Looking back on her time on the front lines during COVID-19, Loci stated the most important aspect for her was "a heightened sense of duty to our co-workers, students, and the entire College community that I myself, and our entire team, do all we can to bring all the cheer back to campus. We have been busy preparing mostly unoccupied building throughout this time, and we can't wait to see our hallways, Library, cafeteria, and gyms full of students, advancing their studies, and making the College of Staten Island proud."
By Terry Mares