The College of Staten Island was honored today to host Her Majesty Queen Diambi Kabatusuila Tshiyoyo Muata of the Democratic Republic of Congo to her alma mater for a day-long visit, meeting with administration, faculty, staff, and CSI students before engaging in an open dialogue at the Center for the Arts Recital Hall on campus.
Queen Diambi, crowned as the ruler of the Bena Tshiyamba People of Bakwa Indu of the Central Kasai Region of the ancient Luba Empire in the Democratic Republic of Congo in 2016, is an alumna of the College of Staten Island from the Class of 1992, graduating as Valedictorian with a Bachelor of Science degree in 1992. She was greeted this morning by CSI Interim President Dr. Timothy G. Lynch, enjoying a breakfast with CSI's Cabinet before embarking on a tour through campus, which included stops at Dolphin Cove Residence Halls, the Lucille and Jay Chazanoff School of Business, and the Center for the Arts, where she took in International Culture Day performances.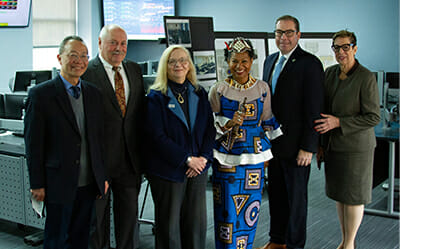 After the performances and tour, Her Majesty then met with a cross-section of CSI administration, staff, and students at the Campus Center Lounge, where she was able to learn more about the campus experience from students and share stories with the campus community of her time as a student. Queen Diambi stopped for photos with various campus constituents before having lunch with Dr. Lynch, members of the Cabinet, faculty leaders, and other special guests.
After lunch, Queen Diambi then made her way to the Center for the Arts again to engage in a Town Hall discussion in the Recital Hall, open to the campus community and live-streamed through CUNY. Moderated by Executive Director of the Center for Global Engagement Dr. Stephen Ferst, the Town Hall featured an introduction of Her Majesty by Dr. Lynch, who together with CUNY Board of Trustee Vice Chair Sandra Wilkin and CUNY Trustee Michael Arvanites, presented Queen Diambi Kabatusuila Tshiyoyo Muata with the President's Medal and a commemorative plaque in honor of her visit to campus.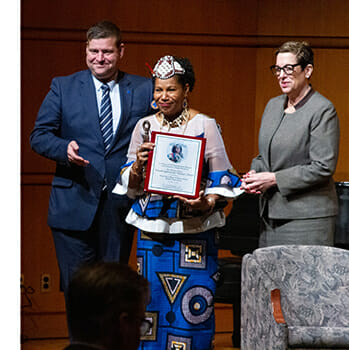 After accepting these awards, Her Majesty explained to the audience that she is neurodivergent, with both dyslexia and ADHD, which created difficulties for her throughout her education, where she encountered a uniform approach to teaching and learning. She said that CUNY was different, noting "I found that it was really welcoming and I found that the University really made it a point of honor to ensure that every single student will have a personalized experience and tailored education program so that it could fit their needs."
Later in her remarks, she stated that her experience was transformative, saying that "CUNY allowed me to develop a lot of different aspects of my personality, but one thing for sure, I reclaimed self-esteem. CUNY was a safe space where I could regain my dignity as a learner."
From there, Her Majesty offered words to guests and was interviewed by CSI senior Zeinab Cisse, who serves as Student Government Vice President. The discussion ranged from Her Majesty's work within the Elikia Hope Foundation, her years spent advocating for global peace, her experience in higher education in the United States, advancing the public consciousness on climate change and plastics in the ocean, and her future plans for global leadership in Africa.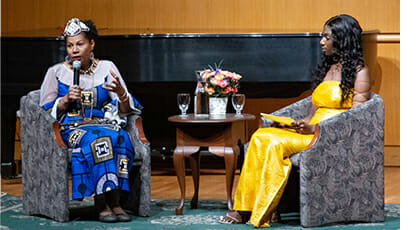 It was an honor welcoming Her Majesty Queen Diambi Kabatusuila Tshiyoyo Muata, who will also visit with the New York City College of Technology during her time in the United States this week.
A photo gallery commemorating the day is available here.