College of Staten Island junior Ashley Plymale, a Business major, was recently awarded one of the United States Army's highest honors for company grade officers, the General Douglas MacArthur Leadership Award, given to her at the United States Pentagon in Washington, DC. Surrounded by members of her family and leaders from her Aviation Command, CW2 Plymale, a 17-year veteran of the Army who currently serves as a Chief of Operations for a Mission Command Support Group, was one of 24 Captains and four Chief Warrant Officers across all three Army Components (Active Duty, Reserve, and National Guard) who are awarded the honor yearly.
"I am extremely honored to have received the General Douglas MacArthur Leadership Award," Ashley said. "Though I have it displayed in my home, it is really a representation of all of the men and women I have been able to serve with. I have never operated without the support of a team. I have had the privilege to work for and with some exemplary men and women throughout my career and have been afforded the opportunity to work in positions that forced me to develop technical and tactical skills pretty quickly."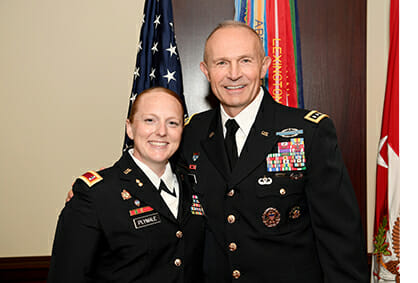 Ashley enlisted in the Army shortly after high school in 2005, driven by the events of September 11, 2001.  She has made it the focus of her life. She recently completed her last tour in Iraq in 2020 and is set to mobilize again in January 2023. Her wife, Liliana, is a Master Sergeant in the Army with 22 years of service and currently works at Fort Dix, NJ. Her grandfather, CMSgt (R) William E. Cotton, a Bronze Star recipient, served in the Air Force for 22 years, which included a tour in Vietnam in 1966. Originally from Alabama, she joined CSI last semester as a transfer student from John Jay College, and is working on completing her second Bachelor's degree, after gaining her Associate's degree in General Studies from Columbia Southern University in 2014 and her first Bachelor of Science degree in Justice Studies from Berkeley College (NY) in 2017. Buoyed by her tremendous support system of family, spouse, and friends, she credits the Army with instilling the discipline she needed to focus on her education.
"I initially started college in 2004 but did not do well. I was too young and unfocused," she explained. "No matter what type of learner you are, being a good student takes discipline, a skill that I developed significantly during my military service. One of the other skills the military has helped me develop is resiliency. I cannot stress enough the importance of resiliency in being successful. You cannot learn how to become successful through adversity without facing adversity. You cannot truly appreciate success without first experiencing failure and I have failed plenty! Sometimes it's hard, but you have to keep going. The same is true with education. As for me, I enjoy the process of self-development. I'm a life-long learner."
Ashley is well aware of the effect serving in the military has had on her, but she gained a lot of perspective on the impact she has had on others when she learned she was nominated for the General Douglas MacArthur Leadership Award, and then heard she had won. Ashley was nominated by her previous Headquarters Commander, MAJ Richelle Healey. "I was extremely grateful to Richelle for the nomination and humbled that she thought my service was worthy of such an honor but was also focused on my upcoming transfer and new position, so I didn't place too much stock in the idea of being selected. To my surprise, all of my commanders endorsed my nomination, and here I am."
The honor is incredible considering the selection process, which includes a memorandum of concurrence (with an explanation of why the commander concurs) from each level of command (Company through Division), which includes the Army Reserve Aviation Command's Commanding General, BG H. Allan Cutchin. Once selected at the division level, the endorsed nomination packet (for the Army Reserve) goes to the Army Reserve Command for further consideration before going to the Department of the Army Headquarters.
Of course, Ashley was ecstatic with the selection and especially grateful for the opportunity to share it with her family.
"Traveling to the Pentagon and getting to meet the other awardees was great," she said. "My previous unit, a combat aviation brigade, was able to fly us down to the event in one of their aircraft. It was really exciting because my kids got to see the plane and get inside the cockpit. My wife, mom, and my children, Brice and Bailey, were able to attend the ceremony in the Pentagon Auditorium. Having my family present was the best part of the entire experience. Military families, especially our children, deal with so much as a result of our service. Especially those that have both parents serving. It is really rejuvenating for them to get to enjoy some of the pomp and circumstance that comes with being in the military. It gives them a chance to fully bask in the pride that comes along with the sacrifices they make."
Now that she is back from the trip, Ashley is diving right back into her studies here at CSI. Her classes include Macroeconomics (Prof. Wegge), Accounting (Prof. Dong), Marketing (Prof. Papadopoulos), and Organizational Theory and Management (Prof. Park). "Marketing really piques my interest the most, because I don't have any experience in it," she stated.
Ashley is looking forward to spending at least three more years in the Army, where she says she will try and leave the Army a better place than she found it, which she admits is a tall order. "Serving in the military and carrying on the legacy of all those who have served before me has been the honor of my life. I will try and pass on as much knowledge as I can to younger soldiers before my career comes to a close. Organizations like the military are able to thrive year after year because we are an organization that passes our knowledge on from one generation to the next."
And that's not all for Ashley. At the conclusion of her service, she would love to start a family-owned-and-operated real estate business. She knows that the education she is receiving within the Lucille and Jay Chazanoff School of Business is going to assist her in that mission.
"My military experience coupled with the skills/knowledge I will obtain from the Lucille and Jay Chazanoff School of Business are the ingredients needed to build the foundation I am laying for my future and for my family's future success."