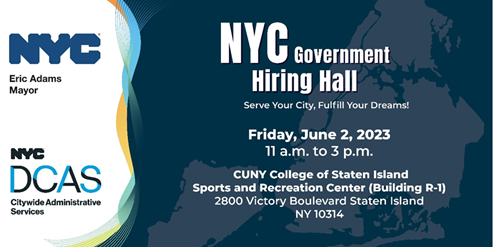 Recent CSI Grads – The City of New York would like to help you get a head start on your post-graduation job search by cordially inviting you to our hiring hall on Friday June 2, at the College of Staten Island. 
Please pre-register at the link below and bring several copies of your resumes to hand out. And we will see you on Friday June 2, please wear professional attire. 
NYC Government Hiring Hall – June 2 Tickets, Fri, June 2, 2023 at 11:00 AM | Eventbrite 
There will be many City agencies present, most of which will conduct on-the-spot interviews for select jobs in City government including case manager, city research scientist, IT, clerical associate, community associate, engineers, social worker, probation officer, inspector, and more!
Event name: NYC Government Hiring Hall
Date: Friday June 2 2023 
Time: 11:00 a.m. – 3:00 p.m.
Location: CUNY College of Staten Island Sports and Recreation Center (Building R-1) 2800 Victory Boulevard Staten Island, NY 10314
Registration:  NYC Government Hiring Hall – June 2 Tickets, Fri, June 2, 2023 at 11:00 AM | Eventbrite