Three students from the College of Staten Island, led by two faculty mentors from the Lucille and Jay Chazanoff School of Business, were recently invited to speak at the annual Insights Association Conference in Hilton Head Island, SC after winning the 2023 GfK NextGen Data Science Hackathon competition. The competition challenged participants to use market research data to develop a data-driven product idea, and the team's innovative solution focused on sustainable electric vehicle (EV) adoption.
Members of the CSI team: Brandon Ortega, Information Systems and Informatics; Brendan Costello, Economics; and Tammy Babad, Computer Science (CUNYBA), developed a solution that enables the direct sharing of electric power between EVs, creating a market economy where owners can buy and sell power to each other. This system also allows for the creation of a flexible and sustainable charging station infrastructure, without the need for heavy and environmentally unfriendly fixed infrastructure.
The hackathon panel was composed of industry experts from research companies as well as representatives from some of the top global car manufacturers. They subsequently spoke of the motivations behind the idea on GfK's podcast, Thinking Ahead, after winning the organization's annual hackathon event.
The hackathon presentation by the CSI trio came with an invitation to the Insights Association Conference, a leading event in the market research industry. The conference provides a platform each year for attendees to participate in keynote speeches, panel discussions, and hands-on workshops covering a range of topics, including data analytics, insights, and market research. The 2023 edition featured Quantitative/Data Analytics as the main track of the conference, where the CSI team presented its work in a regular 30-minute session, on par with the other talks. The conference's other tracks were: Qualitative Research, Management Track, and Behavioral Research. In addition to the talks, the conference included an Expo Hall, with stands from industries, and networking sessions, where the CSI team was able to connect with people and industries that were present at the conference.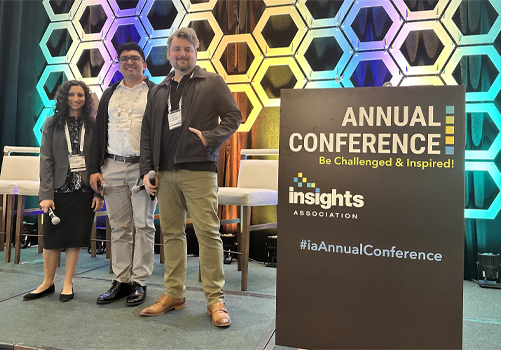 The students were thrilled about the opportunity to attend the conference. "From winning the hackathon with an amazing team and mentors and being able to present our work at the Insights Annual Conference was a memorable experience. We had the chance to network and have engaging conversations with professionals and researchers in marketing and data analytics, which really opened my eyes for the future," said Ortega. "Being able to present our innovative idea with data analysis on stage was a mix of anxiety and excitement, but overall it was truly rewarding and I'm glad I was able to gain this learning and practical experience."
"This was an amazing experience shared with amazing people, I made almost as many professional connections as I did memories," added Costello. "It speaks highly of both GfK and CSI that they make opportunities like this available to students."
Their faculty mentors, Professors Soon Ae Chun and Paolo Cappellari, echoed their excitement. "This is a tremendous achievement for the team. The IA conference held in Hilton Head Island Resort, South Carolina, was a reward for their hard work and a wonderful opportunity for the students to meet the industry leaders. They learned about the current trends in markets, about customers, and some of the challenges that companies face, such as data integrity issues caused by survey participants, the ever-changing technology to leverage for customer retention and market share, and data analytics to understand the post-pandemic customers better, who are quite different from the ones we have known so far," said Professor Chun. "The companies had their booths to show their products and services, and students enjoyed the conversation with the company representatives who provided many leads for career opportunities. Overall, the IA conference was more than a reward but a valuable experiential learning opportunity for their potential career paths."
Professor Cappellari agreed, adding "Their creativity and hard work have paid off, and the conference was a valuable opportunity for them to learn from and network with industry experts." 
The benefits of hackathons and events like the Insights Association Conference extend beyond the individual students and mentors. As Founding Dean of the Lucille and Jay Chazanoff School of Business Dr. Susan Holak noted, "We are incredibly proud of our students and faculty mentors at the Chazanoff School of Business for their impressive achievement. Winning the hackathon is a testament to their dedication and hard work, and we look forward to seeing them make their mark in the industry. It is particularly noteworthy that this is the second hackathon win for a team from our School."
The Lucille and Jay Chazanoff School of Business is proud of their winning team and faculty mentors on their outstanding achievements and will look to continue to be a part of future GfK hackathons and Insights Association programming, as they have provided a great experience for the participating students and faculty mentors.
By: Paolo Cappellari