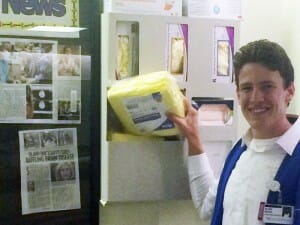 Over the course of the past year, College of Staten Island (CSI) graduate student Alan Wood '15 has donated almost 200 hours of his time to Staten Island University Hospital (SIUH) North. Recognized among college volunteers for "going above and beyond in his volunteer duties," the Master of Science in Neuroscience and Developmental Disorders candidate is a participant in the CSI Bell Hop/Patient Liaison Program at the Hospital's Neurology unit.
"I am participating in this program because it opens up a  door to reach out to others in need, explore potentials, and be introduced to the practical realities of the medical field and hospital life," said Wood, noting that it is "an excellent way to give back to the community."
Through the volunteer program, sponsored by CSI, under the supervision of the Patient Care Unit Manager or Nurse Manager of each unit, the volunteer acts as a liaison between the patient, family members, and staff.  The liaison reinforces the strategies of the SIUH Service Excellence Program as well as the Culture of Care program and serves as a conduit through which patients, family members, visitors, and other customers are able to seek assistance by communicating unmet needs.
Bell Hops work closely with staff, managers, and physicians in order to improve customer satisfaction. Other duties include preparing patients for meals, assisting with feeding under the supervision of primary nurse, and assisting in transporting or escorting patients who are being discharged to the lobby.
"The Bell Hop/Patient Liaison program was created to provide college students, who are interested in healthcare, with access and exposure to the healthcare setting, to healthcare professionals, as well as to patients. It's the best of both worlds and it's a win-win for SIUH, the students, and our patients," commented SIUH Manager of Volunteer Services Toni Arcamone.
CSI's Career Center has been an integral part in this successful partnership between the College and SIUH. Director Caryl Watkins is impressed with the interest that the Program has generated among CSI students, noting that more than 65% of program participants are enrolled CSI students. Other participants include students from other CUNY schools and Wagner College.
"This volunteer internship program provides a wonderful opportunity for our students who are interested in the healthcare field, allowing them to work alongside medical professionals in a hospital setting," commented Watkins.
Kristi Nielson, Career Assistant at the Center, added that the Program "provides students with a professional experience that links academic coursework to the disciplines that a student may want to pursue for a career."
According to Arcamone, in 2014, SIUH welcomed 83 total Bell Hops, with 58 being CSI students. In 2015, SIUH welcomed 91 bell hops, with 63 being CSI students. An additional 35 CSI students have started the application process.
The initiative is a rotational program that allows volunteers to work with doctors, nurses, patients, and families in many units including Outpatient Care, Oncology, Critical Care, and Medical/Surgical units. Junior- and senior-level students in the sciences are encouraged to participate, particularly those seeking résumé-building skills that will make their medical and dental school applications more competitive and for those seeking fellowships or scholarships that require previous volunteer work or experience in the health field.
Wood, who received his undergraduate degree at CSI, majoring in Biology and minoring in Italian, expects to graduate from the Master's program in May 2017. Wood reflects, "Throughout my involvement in this program, I am learning how to be actively engaged in making a difference in the lives of many people, networking skills, and how to exercise personal responsibility in what I have to do. There are many avenues where this program may lead depending on availability, location of service, personal talents, and more; and freedom to lend a hand increases as personal responsibility is demonstrated."