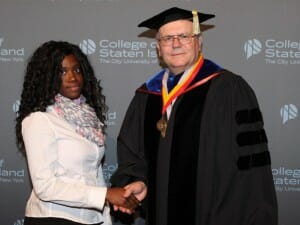 While modern fads and trends urge people living in our fast-paced society to practice yoga, keep calm, and live life comfortably, Kellie Joseph '16 has some unusual advice:  "Get uncomfortable!" she urges.
The College of Staten Island Sociology and Anthropology major and recipient of multiple scholarships carries a 3.695 GPA, coordinates a budding not-for-profit business, and holds multiple positions on campus. Her reasons for "getting out of your comfort zone and trying something new" are simple.
"Learning something new and meeting new people helps you pick up new skills along the way, and it also opens your mind to a different way of thinking. If you don't try something new, you won't know if that 'random elective' could be the gateway to a fulfilling career," she proclaimed, adding that she has studied subjects from the math and sciences to media and management, volunteered for different organizations, and attended a wide array of campus events.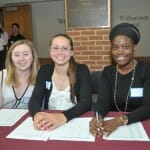 "There is so much that is offered here at CSI through the different programs and clubs. It's shame to let it go to waste," said the Notre Dame Academy graduate.
Born in Trinidad, Joseph currently embarks on several mission trips a year to the Caribbean to feed the homeless. She is currently using her own resources to fund the project and is seeking donations to assist in her efforts. She is in the process of registering the business as an official 501c3 organization.
The Verrazano School student currently holds several positions on campus: a peer educator in Health and Wellness Services, a tutor and note-taker for the Center for Student Accessibility, and the star status coordinator and Vice President of Community Service, National Society of Collegiate Scholars. She was a part of the first cohort of the CUNY Service Corps (2013-2014), an alumna of CSI's Emerging Leaders Program (2014-2015), a Dean's List recipient since 2013, a member of Who's Who Among College and University Students (2015), a CSI scholarship recipient, and a member of the sociology honor society Alpha Kappa Delta. In addition, she is the recipient of the Norma B. Chernok Memorial Scholarship and the College of Staten Island Student Government Scholarship.
The young scholar is grateful to CSI faculty and staff members for making her college experience a successful and rewarding one. "Whether it's stopping in to chit chat about life or doing a terrifying, yet rewarding, ropes course to learning about healthier life choices, or writing a senior thesis, every time I met with them, they were happy to help, give advice, and always had a smile on their face. Most people leave college feeling like 'just another number' but they all made sure that wasn't the case," she enthusiastically explained.
Joseph is currently conducting independent research with Professor Ananya Mukherjea in the Department of Sociology and Anthropology on public health and medical sociology, and has aspirations to become a public health research scientist as well as a college professor.