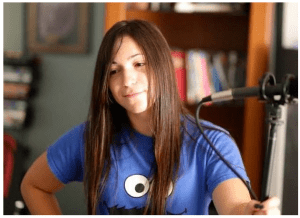 STATEN ISLAND ADVANCE – More than 1,000 miles separate Staten Island from Iowa City, home of the celebrated University of Iowa's Writer's Workshop,the holy grail of aspiring poets and novelists.
That's where College of Staten Island graduate Julianne Neely is bound in just a few weeks.
Neely, 23, was awarded a prestigious Truman Capote Fellowship to study literature and write poetry and fiction at UI, leading to a master's degree in fine arts.
"That's been a dream of mine since high school," said Neely, an alumna of St. John Villa Academy, Arrochar. "I have always loved reading, and writing as a way to express myself. I feel it's something I can do well."
Neely, a Richmond resident, credits her teachers at Villa — where she was in the scholars' program and completed Advance Placement courses in literature — for instilling her love of literature and creative writing. She credits her professors at CSI — English Professor Cate Marvin in particular — for nurturing and encouraging her talent.
But her road to Iowa was not to be a straight path.
She enrolled for a year at the University of Delaware before she transferred to CSI, where she majored in cinema studies with a minor in English. After earning her bachelor's degree from CSI in 2014, Neely landed a job with the Children's Television Workshop, best known as the creators of "Sesame Street" — where she worked until last month.
Neely, however, kept in touch with her professors at CSI, who encouraged her to apply to graduate programs in creative writing. She applied to several colleges and universities, but was wait-listed, she explained.
"But I hadn't applied to Iowa, and decided I would give it a shot," she recalled.
She said that Cate Marvin, her adviser at CSI, told her about the Truman Capote Fellowship, "and encouraged me to apply."
She had to win over her parents — dad Michael Neely is director of the Staten Island CYO —  who were skeptical at first.
"They were somewhat concerned I might just become another struggling writer, but ultimately they wanted me to do what I enjoy," Neely explained. "Now they're very proud and supportive of me."
Neely said she hopes to one day see her work published as a novel, or collection of short stories or poems.For now, however, she plans "to keep reading and keep writing" while she's at UI.
Among her favorite literary influences are  T.S. Eliot, Sylvia Plath, Joyce Carol Oates, Franz Kafka, and, of course, Truman Capote.
"When people tell you about working hard, if you're a writer, the only way to get better is to keep at it. That's what I want to do."
This story by Diane C. Lore was published by www.silive.com on July 2, 2016 and is reprinted here with permission.