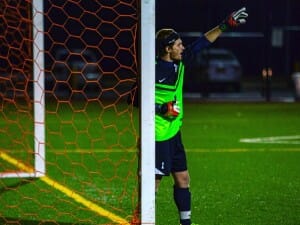 John Gioeli '17 has always dreamed of designing automobiles, airplanes, or even complex mechanical infrastructures. So, when an engineering internship opportunity arose, the Engineering Science major and soccer star juggled his priorities in order to take another step closer to his goal. The Verrazano School student and 2014 CUNY Athletic Conference All Star notes that it was "a bittersweet moment" when he decided to stop playing soccer at CSI in order to have time for the internship. Gioeli is currently an engineer intern at a company constructing a high-rise condominium building, where he assists the project manager in analyzing blueprints and documentation, and inspecting overall construction and MEP systems.
While carrying a 3.58 GPA and pursuing a Mechanical Engineering specialization with a minor in Mathematics, Gioeli has always managed to handle multiple obligations outside of the classroom. The Brooklyn native is working with Aleksander Haber, PhD on a senior design project, along with classmate Dimitrios Pavlidis. The project is a ball-and-beam control system with an inverted pendulum control situated on top of the beam setup.  The feedback-control system is used in everyday-life applications, such as military missile or rocket guidance and automatic piloting.
Gioeli also studied in Florence, Italy in June 2015, commenting that, "I would recommend it to every student to study abroad at least once. The cultural experience is remarkable."
As the goalkeeper and three-year starter for the CSI Men's Soccer Team from 2013-2016, Gioeli is referred to as an individual who "helped build the foundation of the current program" by his coach John Tardy.
Earning multiple scholarships and awards, the St. Joseph by-the-Sea High School graduate still finds time to coach a youth travel soccer team for Cedar Stars Staten Island.
In fact, the busy 21 year old's advice to college students is to "join a club or sports team so that you do not always live in the textbooks studying. Having a few hours a week networking and enjoying time with friends is a major part of college."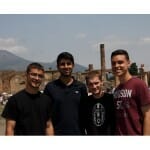 To that end, Gioeli is also, along with Dr. Haber, working to establish an American Society of Mechanical Engineers (ASME) club at CSI.
With future plans to pursue a Master's in Mechanical Engineering and become a licensed professional engineer, the student is grateful to many professors as well as the Verrazano staff for their support.
"Professor Chang-Min Kim has always been there to lend a helping hand for academic work and always made room to fit students in his busy schedule… The Verrazano School staff are the most helpful and down-to-earth group of people who I can have endless conversations with. Cynthia Palumbo, Cheryl Craddock, and Dr. Charles Liu have guided me through the four years at the College to do my best and to push me to work even harder."
Gioeli is the recipient of the William H. Chiles Engineering Scholarship, Bing Technology Memorial Scholarship, Donald DiFranco Memorial Scholarship, Telehouse International Corporation of America Scholarship, the Con Edison Scholarship Endowment Award, and several student-athlete awards.
"John has a wonderful demeanor and a live mind. He's an academic and athletic powerhouse who works at the cutting edge of technology and innovation. It's an honor and a pleasure to have him in our CSI Verrazano School community," said Charles Liu, PhD, Director of the Verrazano and Macaulay Honors College programs.