Matthew Solomon, Associate Professor of Cinema Studies in the Department of Media Culture at the College of Staten Island (CSI), has recently won the prestigious Best Moving Image Book Award from the Kraszna-Krausz Foundation at the Sony World Photography Awards in London for his book, Disappearing Tricks: Silent Film, Houdini, and the New Magic of the Twentieth Century (University of Illinois Press). 
"It was great to have film director Hugh Hudson (Chariots of Fire) and Sir Christopher Frayling (former chair of the UK Arts Council) present me with the award and tell me just how much they liked the book," Solomon said after returning from London. "Accepting the award as part of a red-carpet ceremony in London was tremendously gratifying."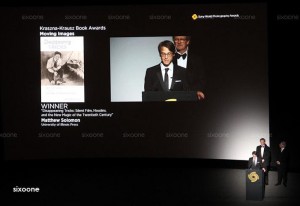 The judges of the 2011 competition said this about the book: "A fascinating enquiry into the early history of film, especially as it involved magicians and magic tricks. Matthew Solomon explores spiritualism and suspension of disbelief in a compelling investigation of the integration of cinema into mainstream entertainment."
The Kraszna-Krausz Foundation is named for Hungarian publisher Andor Kraszna-Krausz, the founder of Focal Press, and recognizes books that have made outstanding educational, historical, and cultural contributions to the fields of the moving image and photography. 
 "Much of the writing of the book took place while I was at CSI, and I really benefited from the support of colleagues like David Gerstner, Edward Miller, Cindy Wong, and Francisco Soto, who understood what I was doing," said Solomon, while discussing his work at CSI.  Professor Solomon has been at CSI since 2002 and teaches courses in film history, theory, and aesthetics.
Solomon also credits many of his students: "I also got great help from several former CSI students, whose research assistance was supported by the College's Undergraduate Research Fellowship Program." 
 His book examines how early cinema was influenced heavily by magicians who used film techniques as a supplement and a substitute to performed feats of stage illusion. These pioneers of special effects used modern editing techniques to make it seem as if the people on screen were magically appearing and vanishing.
Disappearing Tricks focuses in part on Harry Houdini, detailing how the legendary magician and escape artist used film as a part of his act and eventually attempted to become a full-fledged movie star. Solomon explains that while other magicians were using elaborate editing techniques to trick their audiences, Houdini was showcasing shorter nonfiction films of his spectacular outdoor escapes. 
Peter Benchley, one of the judges, wrote recently in The Guardian film blog (May 3), "Solomon puts Houdini at the very centre of cinema's transformation from novelty attraction into the medium of realist narrative fiction propagated by the Hollywood studio system. . . . Solomon's excellent book shows how the 'magic of the movies' is a phrase with real historical meaning, and makes Harry Houdini's career an object lesson in appreciating this."
Professor Solomon, whose research examines the historical relationships between cinema and other media, has published articles in various scholarly journals and book chapters in a number of different anthologies. He is the Associate Editor of Cinema Journal and has presented his research regularly at international conferences.
His new book, Fantastic Voyages of the Cinematic Imagination: Georges Méliès's Trip to the Moon, which was published earlier this month, examines film history's first true blockbuster, A Trip to the Moon (1902). It includes contributions from a number of leading international film scholars and a critical edition DVD containing two different versions of the famous film. He is currently working on a comprehensive multimedia study of the work of Méliès.
The breadth of knowledge Solomon has on the subject matter is astounding and he credits much of this to the academic atmosphere that has been cultivated at CSI.  "Teaching at CSI is stimulating in all kinds of ways.  The different ideas, perspectives, and life experiences that my students bring into the classroom are unbelievably diverse and make for a lively dialogue.  I feel I learn something new every day."