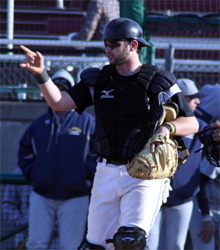 The Dolphins suffered two losses to SUNY-Maritime on Saturday afternoon. The Privateers took the first game 8-0 before taking the second win 9-7. CSI falls to a 6-8 record while Maritime extended to a 7-4 record.
Maritime wasted no time knocking in seven runs in the first inning off of five hits and one CSI error. The second inning they added one more off of an Ed Martinez RBI single. The Dolphins had a hard time getting on base leaving a runner on base in just one occasion in the sixth inning. Maritime pitcher Christopher Myers breezed past CSI batters allowing just two hits while totaling 11 strikeouts.
Casey Mulligan suffered the loss for CSI before Jonathan Aponte would finish the game (6.2 innings) with six strikeouts.
In game two, Maritime scored to start with a RBI from Thomas Bauer. The Dolphins answered right away in the bottom of the third as a Bryan Moreno double scored Luis Ortiz who had reached on a walk.
Maritime added three runs in the top of the fourth to push their lead to 4-1. Martinez singled to get on before he would finally score off of a CSI error after Matt Jernegan's bunt. After a fly out by Dorebecker, Jernegan advanced home on the throw. Patrick Kirk followed with a single before Bauer was up again to single up the middle and score Kirk.
A James Lewis RBI and Ortiz RBI single closed the gap a bit for the Dolphins in the fourth for a 4-3 score.
Matthew Sollin and Joseph Longo started with hits to get on base before Joey Semler's single to centerfield would score them both. Semler advanced on a hit and bunt before scoring on a passed ball to complete the three run 5th inning for Maritime.
CSI wasn't down and out as they answered in the bottom half with three runs to again close the gap to one, 7-6. Francis Torres got on with a walk followed by a single from George Kantzian and another walk by Christian Osmundson. Torres advanced home off of Lewis' single to left. An error on the third baseman allowed Rames Tibvrcio reach while scoring both Kantzian and Osmundson.
Maritime added two more in the 8th inning to extend the score to 9-6 behind a Joseph Longo RBI and a CSI error. The bottom of the 8th and top of the 9th were silent for both teams before CSI would try to take advantage of last licks in the bottom of the ninth.  Osmundson reached on a walk and later scored on a Tibvrcio sac-fly but it was not enough to pull away.
Chris Matusiewicz suffered the loss pitching four innings for CSI as Robert Silvestri captured the win for Maritime.
The Dolphins are back in action on Wednesday, March 21 as they host Stevens Tech in a 3:00 pm doubleheader.