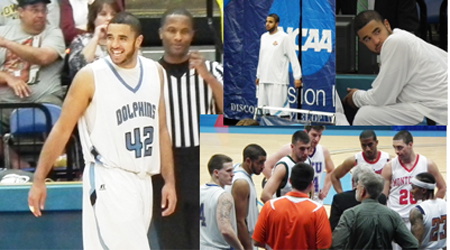 College of Staten Island senior basketball star Jordan Young returned home from an exciting weekend at the NCAA Division III National Basketball Championship Final Four where he participated in the National Association of Basketball Coaches Reese's Division III All-Star Game. Young shared his experience of the weekend's events in Salem, Virginia.
I flew into Virginia where I was greeted with a sign from a driver with my name on it. I've always seen people in airports with signs for people waiting for them and I've always wanted that, it made we feel important! After the short drive through the small three-mile town of Salem, I met with my roommate for the weekend, Tim Brady, from Ohio. We bonded over Subway sandwiches before getting ready for a big dinner that evening.
The Final Four dinner was really nice. It was a buffet dinner where everyone was dressed up. There were the 18 guys from the All-Star team, the members of the four teams in the Final Four, their coaches and the Mayor of Salem. They showed an awesome highlight video about the journey each of the four teams made to the Final Four. I was excited when the coach of MIT, who we were defeated by in the Sweet 16, recognized me. He congratulated me on a great season and a great game against his team. It felt nice to be recognized.
The next morning we went to a local elementary school to talk with some of the classes. We told them of our experiences with basketball and how we got to where we are today. We each had a one-on-one with a student where we read them a book and they read their favorite one back to us. The school was a low income school where 85% of the kids receive money for lunch. A good amount of the students had learning disabilities as well. They were so grateful we were there, you can just tell by all the smiles on their faces the entire two hours we were there.
We had our first practice where we got to meet our coach, former Ohio Wesleyan University coach Gene Mehaffey.  He was as excited to coach us as we were to be there. We shot around for awhile, went through some drills and ran a few plays. After we showered we got read to head to the Final Four games to watch both. The atmosphere in the place was incredible and we had great seats behind the basket. I wish my team could have been there with me to experience it. At half-time we shot around with some young athletes from the Special Olympics. They were so excited to be around asking us who our favorite NBA teams were and even asked to see our different skills and wanted our autographs.
The next day, we went to a clinic where the Final Four coaches introduced different drills and plays for us. We learned from them and got to see some different things. That night we got to the Civic Center early for the All Star game where we got to shoot around on the court. It was such a great thrill to be on that court. My coach, Tony Petosa, was able to come down to the floor where we got a picture together on the court. As it got closer to game time, the crowds starting coming in and I got a real feel of how big a deal this was. Before the introductions I put on my CSI home uniform for the last time. I was proud to represent CSI. Even more exciting was that I was a starter for this All Star game! They announced us and some information about each of us and we ran through this tunnel like we were NBA stars. It was great to play on the team with all different players that I usually play against. I scored four points and had five rebounds.
Following the all-star game, we got to watch the Championship game of Whitewater vs. Cabrini. It was a great game that came right down to the wire. Whitewater captured the win to be crowned the Champs.
We left for New York the next morning after a great experience (and a two hour delay). It's an experience I will never forget. I never knew an experience like this would exist for me but I'm so grateful it did. I would do it all over again.