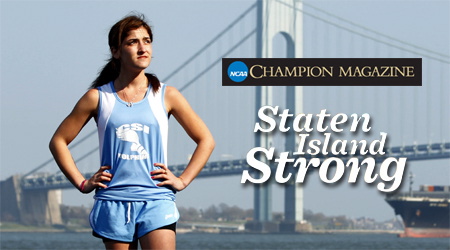 College of Staten Island four-sport star Jacqueline Jamaleddine made national headlines today, gracing the cover of NCAA Champion magazine. The academic sophomore at CSI recently completed her first year as an intercollegiate student-athlete, excelling in cross-country, track & field, swimming, and tennis, but Jamaleddine's on the field annals only scratch the surface of a remarkable story, one that Gary Brown chronicles in the magazine's three-page spread.
Seen aboard the Staten Island Ferry, Jamaleddine's story is entitled, "Staten Island Strong," and tells the story of her remarkably busy schedule set against the backdrop of anguish, having lost two members of her family just prior to graduating from Tottenville High School. From there, Jamaleddine leaned on her love for sports and competition as a vehicle to get her through to where she is today.
NCAA Champion magazine illuminates its readers about the most important issues facing intercollegiate athletics while also promoting the thousands of quality people who support college sports each day. It publishes four times annually; January, April, July and October. With an elevated emphasis on quality graphic design and outstanding photography, Champion focuses on the relevant NCAA issues and top people within the organization. And each issue leads off with a cover portrait featuring the most important person in college sports: the student-athlete.
The written piece on Jamaleddine will appear with a more extensive video on the NCAA Champion's YouTube page. Interviews with Jamaleddine, Head Cross-Country & Track and Field Coach Robert Russo, and Professor Jennifer Sullivan, will be featured in the video. Sullivan, an assistant coach with the women's tennis team this past fall, pitched Jackie's story to CSI's Sports Information office, which in turn, submitted the story to the magazine.
"Jackie's story is a compelling one, and one that should be told," said David Pizzuto, Associate Athletic Director and Sports Information Director. "Her story reflects the ideals we look for in NCAA Division III athletics, one that has come to define the face of the student at the College of Staten Island. Jackie is a quality student-athlete, but an even better person. For her to share her story with thousands of readers says a lot about her character."
About 30,000 subscriptions of NCAA Champion Magazine circulates the United States, with copies delivered to every NCAA campus in the nation. Jamaleddine's cover story highlights an issue filled with other features in the 117-page publication. Artwork in the issue and in the video piece features Jamaleddine at various Staten Island signature locations, such at the Staten Island Ferry 9/11 Memorial, Alice Austin House, South Beach Boardwalk, and, of course, the College of Staten Island's 208-acre campus.