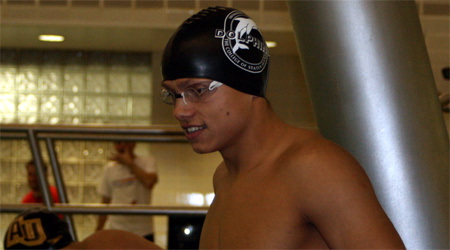 On Wednesday, May 16, the City University of New York Athletic Conference will celebrate the 2011-12 academic and athletic year with the 26th Annual Michael Steuerman Scholar-Athlete Awards Dinner at Queens College at 7pm.  For the first time since 1999, the College of Staten Island picked up a grand prize of the evening, as four-year national standout Vladislav Romanov of swimming will be bestowed the Four-Year College Scholar-Athlete of the Year award.  Presented by Pepsi and Dell, the night is a tribute to our outstanding student-athletes, coaches, administrators and supporters. The honorees represent the very best the City University of New York has to offer in quality scholarship, athleticism, and pride in our community at CUNY.
Joining Romanov for top honors are Kingsborough Community College's Zenia George (Women's Cross Country/Track & Field), Hunter College's Mallory Grubler (Women's Volleyball), and Queensborough Community College's Gteni Mbeou (Men's Soccer).  They will be joined by the 29 honorable mention scholar-athletes whose efforts rank them among the uppermost achievers in our cohort of student-athletes, among them CSI's Lauren Neglia (Women's Soccer) and Olivia Tierno (Women's Basketball).
The best backstroker in the history of the CUNY Athletic Conference, Romanov never lost a backstroke race against CUNY competition in four years. A business finance major, he also boasts a 3.67 grade point average, and is a two-time CUNYAC/Hospital For Special Surgery Scholar-Athlete of the Month.
Romanov came to New York for college four years ago, having grown up in Moscow, Russia. The College of Staten Island had a Russian born coach and two National caliber Russian swimmers in Pavel Buyanov and Nikolay Shevchenko, who graduated last year as All-Americans. It was a perfect fit.
"Pavel and Nikolay both influenced me in my sports career and helped me develop my personality," said Romanov. "We are very good friends and coworkers, I actually used to room with Pavel and we lived together for about a year or so. Once Pavel got to know me we became friends and he was  my role model, given that I was 16 when I came to America and he was 24 (and already a National champion and a record holder), I always looked up to him. I got a lot out of our relationship with him. I think I got more from Pasha over the last 4 years than I did anyone else here."
On the pool deck, Romanov has been named Most Valuable Performer at the CUNYAC Championships three times and has earned nine All-American and Honorable Mention All-American awards at the NCAA Division III Men's Swimming and Diving Championships. In CUNYAC, his talent in the pool has been unmatched, winning an astounding 23 gold medals and setting and breaking the three individual backstroke event records each and every year.
"As an International Student, I can't tell you the overwhelming lengths Vlad has had to go through to adjust to not only living in the United States and in the metropolitan area, but to study and navigate its educational system," said David Pizzuto, CSI's Associate Athletic Director, who first remembers Romanov as a shy, humble freshman in 2008. "Vlad is just special; he is one who serves as an example for others."
He has made a good life for himself here in New York, living in Staten Island and life guarding at the CSI Sports and Recreation Center and when he isn't studying or helping his peers.
Romanov leaned on his teammates at his first NCAA Championship event in 2009, finishing 14th in both the 100 Meter and 200 Meter Backstroke events. As a sophomore, he improved in his only event, earning his first All-American honor, placing eighth in the 200 Backstroke.
As a junior at the NCAA Championships, he had a defining moment in his four years at CSI. "Going into the championship I had quite some expectations being a finalist a year before and so I practiced extra hard and had lowered my time in qualifications to the NCAA. Unfortunately, just about a month before nationals I caught a virus and had to take antibiotics, which I never fully recovered from. When I went to the NCAA's, I felt awful. On the second day, we swam the 400 Medley Relay for the first time at Nationals. Regardless of my sickness I knew I could not disappoint my teammates. That morning we made finished eighth and guaranteed a place in the final, and then we improved again that night, finishing sixth overall. That night it was about how everyone had faith in me and how it all worked out in the end."
In his final season, the senior, Romanov, led an extremely talented group of two sophomores and two freshmen to NCAA's. The Dolphins came home in 10th place overall at the conclusion, their highest team faring ever. Meanwhile, Romanov really saved the best for last, winning the first NCAA medal of his illustrious career, claiming silver in the 200-yard Backstroke in the his final race for CSI.
"I always thought I could use my brain to get what I want," said Romanov, "So I take my dreams and set goals and I do what I have to do to achieve them."
As for his future plans, his most recent NCAA performance has reignited his passion for competitive swimming, when he significantly lowered his personal best times throughout the season and again at Nationals. "I can choose to stick around the swimming world for some and relocate to either Florida or California to swim and go for the Olympic Games in 2016. That is one path I may choose."
Romanov may also pursue a Master's at Baruch with hopes of becoming an entrepreneur where he will create and run his own business, even if he has to get some field experience first. "I will be doing internships and maybe some part-time, business related work, if there will be an opportunity for it."
Romanov is the first CSI student-athlete to be awarded a CUNYAC honor in this category since Fred Marinacchio (Men's Basketball) took the top male honor in 1991.  In 1999, CSI's Gabriella Nagy (Women's Volleyball) took the top prize in the female category.
Alongside the scholar-athlete awards, CUNYAC will also celebrate the amazing achievements of their All-American student-athletes. All-Americans are given by each sport's National committee, recognizing the elite athletes in the country. As of Monday, May 14, CUNYAC's count for 2011-12 stands at 24 prior to the dinner, but the Spring tends to be the most 'successful' season in terms of All-Americans, and that number will grow in the coming weeks with the NCAA Track & Field Championships in two weeks. The Conference is aiming to exceed last year's record number of 32 All-Americans.
Also presented as part of the ceremonies is the Commissioner's Cup, which will be presented for the 15th consecutive time to the most successful Four-Year and Community College athletic programs for the 2011-2012 academic year and  finally, the "Friend of CUNY" special award will be given out to a very surprised attendee.- Story courtesy of the CUNY Athletic Conference