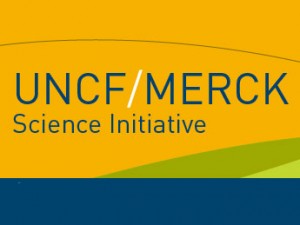 The United Negro College Fund and the Merck Company Foundation recently named CSI student Evelyn Okeke a 2012 UNCF/Merck Undergraduate Science Research Fellow.
Evelyn Okeke's journey to becoming a research fellow began innocently enough, "I was basically grad school shopping," she said during a recent interview.  "I stumbled onto the UNCF Website, saw an opportunity for a scholarship, and applied."  Upon completion of the application, which took about a month, she said she had "a good feeling," and was relieved when she was notified of the fellowship this past February. "I saw an opportunity to earn experience for research done in an industry (as opposed to academia)," she said. 
Okeke is a senior Biology major with a 4.0 GPA who moved to the United States from Germany about three years ago.  The Dresden native originally moved here in order to be closer to her boyfriend in the States but quickly decided that this was the perfect opportunity to pursue a dream she had been cultivating all her life. "I always wanted to change the world for the best," said Okeke.  Having discovered a love for research that she says began at CSI under the tutelage of Dr. Abdeslem El Idrissi, Professor of Biology, Okeke saw a way she could impact the world.
Okeke's academic interests are so diverse it is nearly impossible to list them all, but they include physiology, computational biology, neuroscience, and even biophysics. She is excited about beginning the internship, which begins June 4 and will last for approximately 12 weeks, as well as the opportunity to see the industry aspect of research science as opposed to solely academic research. "I hope I can greatly contribute."
Evelyn wants to credit her CSI professors, namely, Dr. El Idrissi; Dr. Leonard Ciaccio, Professor of Biology; and Dr. Ralf Peetz, Associate Professor of Chemistry, with challenging her and "giving great support," during her undergraduate career. "Also, I appreciate the great support of the Louis Stroke Alliance for Minority Participation (LSAMP) program and C-STEP, as well has the continued support from Jonathan Blaize (a graduate student in Neuroscience)."
The UNCF/Merck Science Initiative (UMSI) offers 37 annual awards to outstanding African American undergraduate or graduate students and postdoctoral researchers. The scholarship covers funds for tuition and room and board, as well as support for grants, hands-on training, and mentoring relationships.  In order to apply for an undergraduate research scholarship, the applicant must be African American, enrolled as junior who will be a degree candidate in the 2012-2013 academic year with a minimum GPA of 3.3.  More information about scholarship opportunities with UNCF/MERCK is available online.