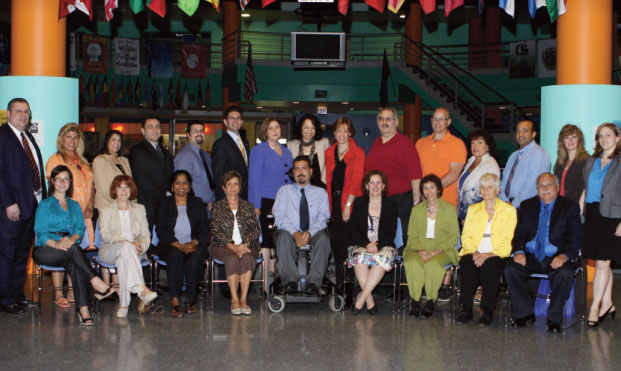 The Annual Meeting of the CSI Alumni Association Board of Directors was held on Monday, June 18, 2012 in the Campus Center Green Dolphin Lounge. The meeting provided an opportunity to welcome current and former Board members, members of the CSI Administration, and old friends, and gave a glimpse into the future as 2012 grads were also present.
After CSI Alumni Board President Arthur Merola, DPM '84, '85 called the meeting to order, he followed the tradition of highlighting the initiatives and accomplishments of the past year and recognizing all board members who helped make the year successful.
Next, Dr. William Fritz, then Provost and Senior Vice President for Academic Affairs, gave greetings. He shared some of his experiences at CSI and expressed to all present his hope to work with the Alumni Board as his role changes to Interim President.
Following Dr. Fritz, Acting Vice President for Institutional Advancement and External Affairs Dr. Kenneth Boyden gave remarks on behalf of then CSI President Tomás D. Morales. Dr. Boyden shared highlights of the past academic year and thanked the Alumni Board members for their dedication to the College.
Alumni Affairs Coordinator Donna Garambone then presented the CSIAA Student Leadership Award winners, Francesca Navarro '12, Jeremiah Jurkewicz '12, and Annalisa Susca '12 to the Alumni Board. This award is given annually to students who demonstrate leadership qualities, have a record of service to the College or community, and have a GPA of 3.0 or above.
After the awards presentation, two outgoing Board members, Patricia Carroll and Audrey Tesora, were thanked for their dedication and service and presented with gifts. Dr. Morales was also recognized and thanked, and Dr. Fritz accepted the gift on his behalf.
The meeting concluded with the election of new Board members. Michele Karpeles '08, '10, '12; Stephen Kaufer '77; Sumi Raj '90; and Robert Shullich '76, '85, '88 were reelected and Lee Covino ' 74, '77; Jayme Olivari '84; Jennifer Rodriguez '06; Michael Troncone '83, '86; and George Vega '10 were elected to their first three-year terms.
The Alumni Association congratulates all of the Board members and is looking forward to another successful year.