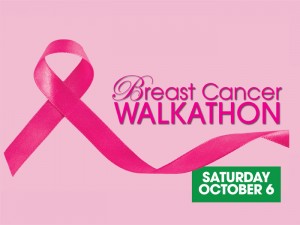 Staten Islanders lose their lives to breast cancer more often than in the rest of the city, state and nation.
Join Dr. Donna Gerstle, Director of the Staten Island Breast Cancer Research Initiative (SIBCRI) at 10 a.m. on Saturday October 6, 2012 along with hundreds of Staten Islanders for the two-kilometer Walkathon to remember friends lost and lives changed. Participants can register online.
Read these articles from the Staten Island Advance:
–Staten Island knitters raise $$ to battle common enemy – breast cancer;
–Knitters make symbols of hope on Staten Island.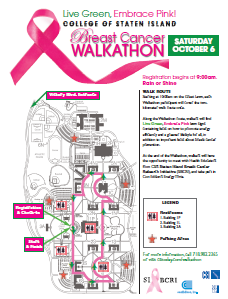 The Walkathon is sponsored by Con Edison and the CSI Alumni Association.  Hand-knitted scarfs and blankets, lovingly crafted by supportive community groups across the country, will be available for purchase.
Registration on October 6 beings at 9:00 a.m. on the Great Lawn, the walk begins at 10:00 a.m.  The Walkathon is the flagship event of the College's Second Annual Homecoming Festival.
Registration is required, with a requested donation of $25. All registered walkers will receive a SIBCRI t-shirt, water bottle, tote bag and pink pedometer. All contributions are tax deductible. For more information call (718) 982-2365.

I cannot attend the Breast Cancer Walkathon, but will click here to make a donation or sponsor a walker in support of the Staten Island Breast Cancer Research Initiative.
BACKGROUND
Dr.  Gerstle  is determined to find out why there is a high correlation between length of residency and mortality from breast cancer. Her quest in the laboratories of the CSI Center for the Environmental Science involves long hours reviewing a broad spectrum of data. Her enduring commitment is matched by her life-long passion.
Starting at 10:00am on the Great Lawn, each Walkathon participant will cover the two-kilometer walk route once. Along the Walkathon route, walkers will find Live Green, Embrace Pink lawn signs containing facts on how to promote energy efficiency and a greener lifestyle for all, in addition to important facts about breast cancer prevention. At the end of the Walkathon, walkers will have the opportunity to meet with Health Educators from CSI's Staten Island Breast Cancer Research Initiative (SIBCRI).